NEW YORK: Prime Minister Shahid Khaqan Abbasi on Tuesday met United States Vice President Mike Pence on the sidelines of the United Nations General Assembly session in New York and conveyed Pakistan's concerns over the US' revised policy in the region.
The prime minister informed Pence of the decisions reached in the National Security Committee meeting over the policy, informed sources.
The two also held discussions on improving bilateral relations, after over a month of tension between the two countries after US President Trump blamed Pakistan for providing safe havens to terrorists in a speech in August.
Both sides agreed to work together to carry forward the relationship which has been a historic partnership for the last seven decades.
It was agreed that the two countries would stay engaged with a constructive approach to achieve shared objectives of peace, stability and economic prosperity in the region, according to a statement by the PM Office. 
Foreign Secretary Tehmina Janjua and Pakistan's permanent representative to the UN Maleeha Lodhi, in a media briefing later, said that the meeting helped end the stalemate between the two countries. The US also wants to continue holding talks and a US delegation will visit Pakistan in October, the officials added.
The prime minister also met British Prime Minister Theresa May, Iranian President Hassan Rouhani, Turkish President Recep Tayyip Erdogan, as well as President Maithripala Sirisena of Sri Lanka and King Abdullah II of Jordan. 
A meeting with Afghan president could not be held due to a shortage of time, the media briefing said.

Abbasi and President Rouhani held discussions on the Afghan issue and agreed on a strategy to resolve the conflict. The two also vowed to promote trade and improve relations between two countries.

Abbasi and Turkey's Erdogan agreed upon the revival of the Pakistan-Afghanistan-Turkey Trilateral process for promoting lasting peace and stability in Afghanistan, it was reported.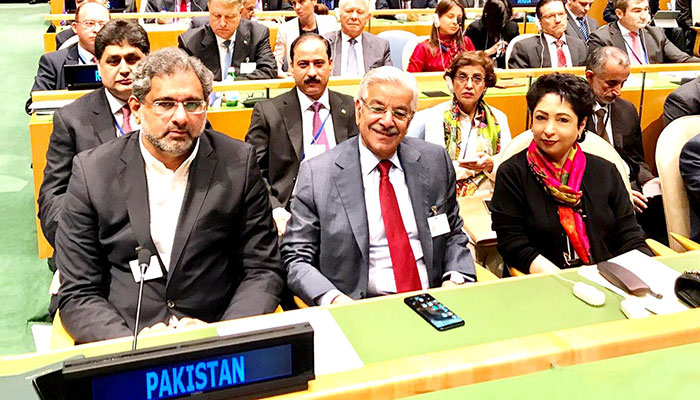 Both leaders agreed that efforts should continue for a regional approach for an internal political settlement in Afghanistan through an Afghan-owned and Afghan-led peace process.
Discussing the plight of Rohingya Muslims, Erdogan and Abbasi urged the international community and the Organisation of Islamic Cooperation to take urgent measures to alleviate the suffering of these people.