ISLAMABAD: Finance Minister Ishaq Dar on Monday said that the country's foreign exchange reserves are not standing on worrisome levels anymore.
"Our foreign reserves stand at $14 billion," Dar said while addressing a press conference in Islamabad. 
"As far as the economic indicators are concerned, inflation is contained and interest rates are lowest in decades," he said, adding that the inflation figures at the end of the fiscal year stood at 4.2 per cent.
Dar stressed that the government is focused on 'higher growth for the economy'. 
"Our real objective should be higher growth because that only will push the economy in the right direction," the finance minister said. 
He added that the finance ministry is determined to not lose the six percent growth target. 

"We have monitored, managed, and controlled expenditures to a large extent," Dar said. 
Discussing the energy sector, he said that the result of the past governments' ignoring the sector for more than a decade had resulted in a hefty Rs503 billion rupee circular debt. 

"The infrastructure needed investment and the country was faced with a huge challenge in terms of security, which the government addressed effectively," he said. 
"Some countries state that Pakistan is home to sanctuaries of certain terrorist organisations, but these claims are completely false," he said and praised the Pakistani armed forces for doing a great job in improving the country's security situation.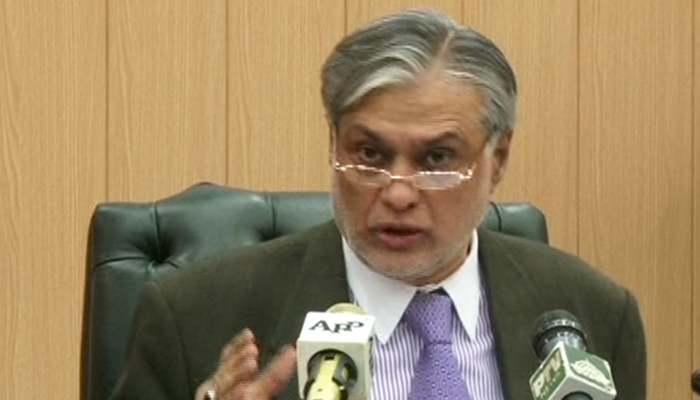 The finance minister added that the circular debt has been brought under the Rs400 billion mark, and  load shedding has been reduced to a large extent as compared to the 18-hour outages experienced in the past.  
"Even after curtailing the energy deficit and addressing the load shedding problem to a large extent, we have managed to bring down the circular debt," the minister said.
Citing Pricewaterhouse Coopers (PwC) report published in February, Dar said that the world has a positive outlook on Pakistan's future. 
"The PwC report has forecasted that Pakistan will become the sixteenth largest economy in the world by 2050," he said, adding that Morgan Stanley gave the country the 'emerging market status,' and international credit rating agencies upgraded the country's rating.  
He insisted that a lot of hard work needs to be done to take Pakistan head and for that 'everyone must play their part.'