In 2009, Meher Mohammad Khalil was only 35 years old. He was an ordinary driver with a monthly salary of less than Rs30,000. Few knew his name. And even fewer could have predicted his courage.
On March 3, the same year, he woke up earlier than usual to escort the visiting Sri Lankan cricket team from a five-star hotel to Lahore's Gaddafi Stadium, for a scheduled Test match.
The route was predetermined, and simple enough. Khalil was to take the Mall Road towards the busy Main Boulevard in Gulberg, before turning into the stadium. It was a short journey, but a beautiful one. Lahore was resplendent with spring's flowers and hoarding and billboards welcoming the foreign players. Khalil would occasionally glance out of his window to take in the morning sunlight.
And just then he heard it - a loud thundering growl, followed by rapid gunfire. Armed men in fatigues poured out from the bushes and began spraying the bus with bullets.
Khalil froze. For a few minutes he was unable to react to sounds of cries and guns around him. Then, someone shouted, "Go, go!" and he hit the throttle, bravely racing the vehicle to the stadium.
That day, six police officers escorting the convoy and a driver were killed. The players, all eleven of them, were safe.
Soon after, the remainder of Sri Lanka's tour of Pakistan was cancelled. The players flew home. And Pakistan became a no-go zone for most foreign teams.
I remember talking to Khalil that same night of the attack. "I don't know what gave me the courage to do what I did," he told me, visibly shaken. "I saved many lives today, but I may have also saved the honour of my country."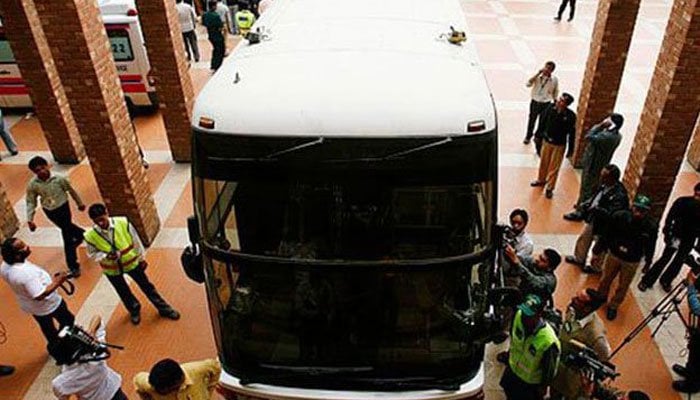 Khalil was hailed as a hero. Everyone now knew his name. Geo Television, the Pakistan Cricket Board and the Traders Associations feted him with awards and honours. The Sri Lankan government invited him as a state guest for 10 days. At a special ceremony in Colombo, Sri Lankan wicketkeeper Kumar Sangakkara thanked Khalil: "His courage, selflessness and quick thinking enabled many of us to see another day. We will always have a special place for you in our hearts."

Khalil, who had never used his passport before, was now travelling to England, Spain and Morocco.
With the money he received, he bought a few buses in the city and then relocated his family to South Africa.
But now he is back in Lahore. And so are the men he risked his life to save.
Today, eight years later, the Sri Lankan cricket team has returned to Pakistan for a one-off T20 international. Lahore's security has been shored up and a bombproof vehicle is ready to transport the players to the stadium.
Khalil, 43, tells Geo.tv that he has requested the Pakistan Cricket Board to allow him to host the players for dinner at his house. He hasn't heard back.
In fact, the PCB only invited him once, in 2015, to watch the Zimbabwe-Pakistan match in Lahore as a spectator. After that he hasn't heard from them regarding any of the other international matches held recently in the country.
An invite for Sunday's match has also not come through as yet. Khalil hopes he too can sit among the cricket fans to watch Sri Lanka play Pakistan, and this time cheer on his home team.