KARACHI: Ahmad Baig, Pakistan's fast-rising golfer from Lahore, out-shined all his opponents to win the 7th Faldo Challenge Pakistan Golf championship with an impressive score of 11-underpar at Karachi's DHA Club.

19-year-old Ahmad, now a regular feature in Pakistan's golf circuit, was competing in the U-21 age group category of the tournament. He proved himself too good for the opponents, as the runner-up to him in the category, Syed Saim Shazli Azhar, was 19 strokes behind him.
Ahmad fired a stunning score of 66 on Friday, the opening day of championship. He continued to display his skill on windy 2nd day when other young golfers were finding themselves struggling, he stroked with score of 69. His superb run continued on the third day on Sunday with score of 70.
His total score in three-day championship was 205 (-11) making him straightaway the champion of the title.
"It was good experience for me, I am playing golf regularly and this experience helped me a lot here," Ahmad told Geo.tv after winning the title.
"I am aiming to turn pro soon. I want to play in Asian tours and PGA tours worldwide," he said.
The girls' U-21 title was grabbed by Airmen Golf Club's Aania Farooq with score of 235, edging out Rimsha Ijaz by one stroke.
Rimsha, who was at third position on day two lagging 5 strokes behind Aania, played better on day three to edge past Parkha Ijaz, but couldn't pass Aania's score.
"Competitiveness has increased here. Golf has a good future in Pakistan," said Aania after defending her title in the championship.
A total of 7 girls were participating in the championship attended by 65 golfers in different age groups from around the country. For PGF, the least number of women participation isn't increasing.
"It is not encouraging, just 7 girls. There should be more girls participating in the tournament," said Asad I. A. Khan, VP of Pakistan Golf Federation, who's otherwise happy to see youngsters performing in the lush green golf course of DHA Club.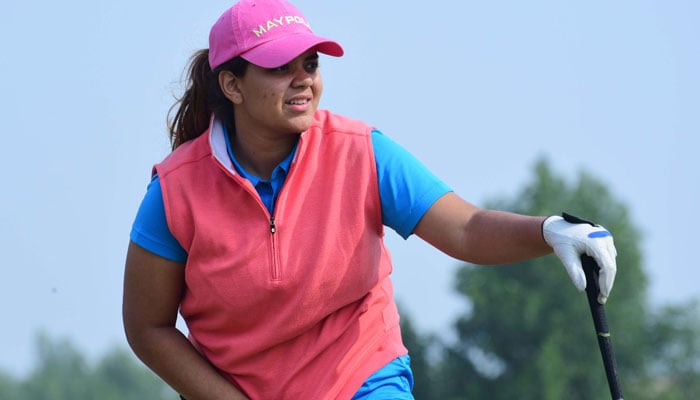 "Golf is an ageless game. People from 8 years of age to 85 years of age play this. The perception here that golf is only for retired people is not true and the PGF is working to promote the game so the perception is changed," he added.
In other categories, Damil Attaullah from Lahore won the boys U-16 category competition with score of 234. Ali Mehmood of DHA Club finished second. Mohammad Saqib of Lahore Garrison Golf Club won the U-18 championship. Hamna Amjad won the girls' U-16 title.
The winner of the championship will represent Pakistan at the 11th Faldo Series Asia Grand Final to be held at the Laguna Lang Co Golf Club in Danang, Vietnam, in March this year.