KARACHI: Additional Inspector-General (AIG) of Counter-Terrorism Department (CTD) Sanaullah Abbasi contacted on Sunday the Inspector-General Police Khyber Pakhtunkhwa and sought his help in the extra-judicial killing probe of Naqeebullah Mehsud.

The AIG said that IGP KP Salahuddin Khan Mehsood has assured him that Naqeebullah's family will be sent to Karachi under full security so that they could participate in the investigation.
Commenting on the progress of the committee formed to probe the killing, Sanaullah said the committee will have regular sessions and will show progress too.
Naqeebullah was among four suspected terrorists killed in an 'exchange of fire' with a police team headed by Malir SSP Rao Anwar on January 13 in Shah Latif Town. However, his family later stated that Naqeebullah was innocent and gunned down in a fake encounter.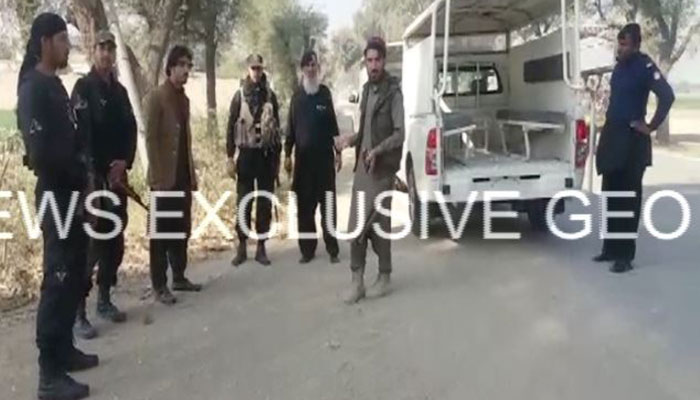 Later in the day, the KP IG sent two vehicles of the Elite Force to provide security to Naqeebullah's family on their trip to Karachi. 
The Elite Force convoy met the political agent of South Waziristan in Tank, where it was decided that Naqeebullah's family will be brought to the tribal agency's border post from where the police will take over their security and move to DI Khan. 
The family is expected to arrive in Karachi via airplane. 
Entire police party suspended 
It was reported on Sunday that a police meeting decided to arrest Anwar and the other officials involved in the incident. 
It was also decided in the meeting that all the SHOs of District East would be transferred. 
Earlier, six police officials were suspended after the probe committee formed over the extrajudicial killing found the 27-year-old to be innocent.

SHO Amanullah Marwat, who was removed from his post on Friday, has been suspended, along with ASI Fida Hussain, Head Constables Syed Sadaqat Shah and Mohsin Abbas, and Constables Raja Shamim Mukhtar and Rana Riaz Ahmad.

This follows the removal on Saturday of SSP Anwar from his post. Anwar's name has also been placed on the Exit Control List (ECL) on the recommendation of the probe committee, sources said.

On January 18, the Inspector-General Police Sindh, Allah Dino Khawaja, ordered the formation of a three-member committee, headed by CTD's Abbasi, to probe the extrajudicial killing.
On January 20, the committee found the 27-year-old innocent, sources informed Geo News. According to the initial investigation report, the committee had termed Anwar's allegations against Naqeebullah 'baseless', sources said.
In its report, the committee stated that there was no proof found of Naqeebullah being a terrorist. The 2014 FIR presented by Anwar against Naqeebullah was also bogus, it said.
The committee in its report has also recommended the registration of a case against Anwar and other personnel involved in Naqeebullah's killing.
Chief Justice of Pakistan Justice Saqib Nisar took suo motu notice of the killing on Friday and summoned a report from the Sindh police chief in seven days.