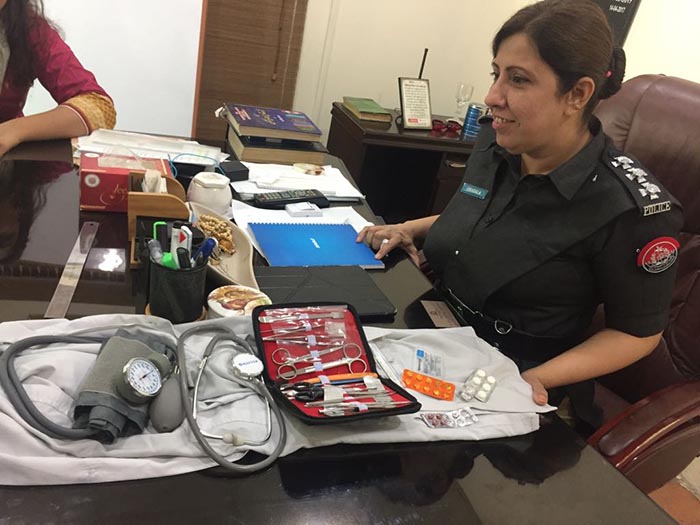 KARACHI: Police on Monday arrested a fake lady doctor from Karachi's Jinnah Postgraduate Medical Centre (JPMC).

Karachi Women's Police SHO Syeda Ghazala said the suspect had been working at JPMC's gynaecology ward for the past one year.
"We conducted a raid at the medical facility today after being informed that a woman who was not affiliated with JPMC was working as a lady doctor at the gynaecology ward," Ghazala added.
The SHO said the suspect was arrested after she "failed to provide satisfactory answers" during police interrogation at the hospital.
The impostor was transferred to a nearby police station where she identified herself as Aisha wife of Abdul Karim, a resident of Korangi. Surgical instruments were recovered from her possession.
SHO Ghazala said that the woman had acquired education up to matric level only and did not have a lady health visitor or a mid-wife certificate.
Police are also investigating the possibility of the woman's affiliation with a group that abducts newborns from the ward.
It is believed that the suspect targeted female patients who visited the gynaecology ward to undergo "illegal surgeries".
A case has been lodged against the accused under sections 419 and 170 of the Pakistan Penal Code.
JPMC spokesperson Dr Seemin Jamali denied that the suspect had been working at the hospital for over a year. "Just yesterday this woman was seen at the gynaecology ward and security personnel reported her after which we called the police," Dr Jamali said.

Later in the day, the impostor was presented before a judicial magistrate and sent to jail on judicial remand till March 26.
The court said the police can interrogate the accused in jail for three days.
The suspect's lawyer said that she was working as a doctor's personal assistant for the past six to seven months. "She never told anyone she's a lady doctor," the suspect's lawyer further defended.