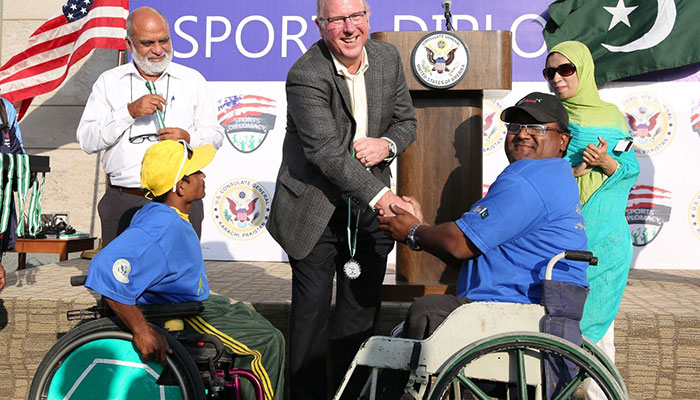 KARACHI: Acting Consul General John Warner welcomed around 70 differently-abled athletes as well as their parents and mentors from Para Sports Pakistan to the Consulate for a Paralympics Sports Diplomacy event on Wednesday, said a press release.
The US consulate press statement said that the athletes participated in seven-a-side football, visually impaired cricket, and wheelchair tennis, along with American officers and Marines from the United States Consulate General in Karachi.
The event was organised to mark the Paralympic 2018 games in Pyeong Chang, Korea happening March 9-18, 2018.
The event is part of the Consulate's series of sports diplomacy events, targeting traditionally disadvantaged groups who face various kinds of discrimination, said the statement.
Acting Consul General Warner said: "Paralympic sport is about far more than just the sport. It's not about winning – it's about competing. It's not about being the fastest or scoring the most points, it's about being part of a team or challenging yourself to be your best. These athletes are demonstrating qualities that speak to all of us – not as athletes, but as humans. I am incredibly proud of these competitors, they are all winners."
Mr. Khalid Rehmani, President of Para-Sports Pakistan in his remarks said that "these athletes on wheelchairs and those playing football are real heroes. My advice to all of them is to keep your face always towards sunshine and the shadows will fall behind you. For us all, I must say that the only disability in life is a bad attitude."