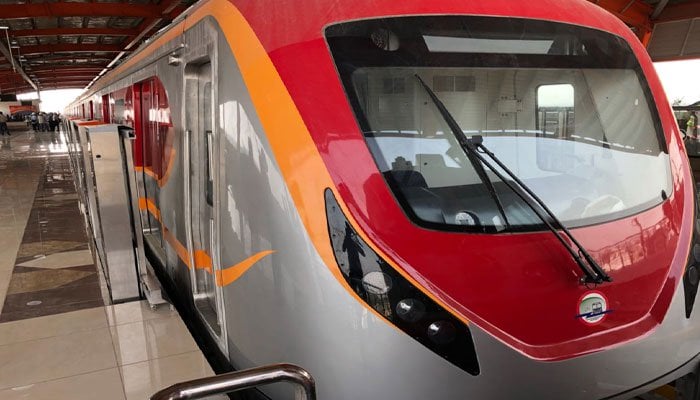 LAHORE: Chief Minister Punjab Shehbaz Sharif Wednesday observed test run of Orange Line Metro Train (OLMT) in Lahore.
Speaking to the media after 11 km test run in the metro train from Dera Gujjran station to Lakshmi Chowk station, Shehbaz said that had Pakistan Tehreek-e-Insaf not created hurdles, millions would have been traveling in the metro train.
"It's a common man's project. I won't lie to the people like Imran Khan; people would be able to travel in Orange Line Metro Train in three-and-a-half months," he said.
"Those travelling via helicopters and airplanes are not aware of the woes of masses," the Punjab CM took a jibe at the PTI chief, adding, "Niazi sahib, you wasted 22 months of this nation.
"The masses are now to sink the PTI's ship in 2018 elections," he added.

Shehbaz said the Khyber Pakhtunkhwa government couldn't build new hospitals, neither schools in the province, and now it has started work on metro projects, which Imran once used to describe as 'Jangla Bus Service.'
He said that in opposing Pakistan Muslim League-Nawaz, the PTI had stooped down to enmity with the people. "People will avenge the PTI for delay in Orange Line Metro Train project." 
The Punjab chief minister further said that "Bani Gala and Bilawal House are pursuing the same politics." 
"They didn't do any work in their respective provinces and consider me dangerous for the future of their politics," he lambasted.