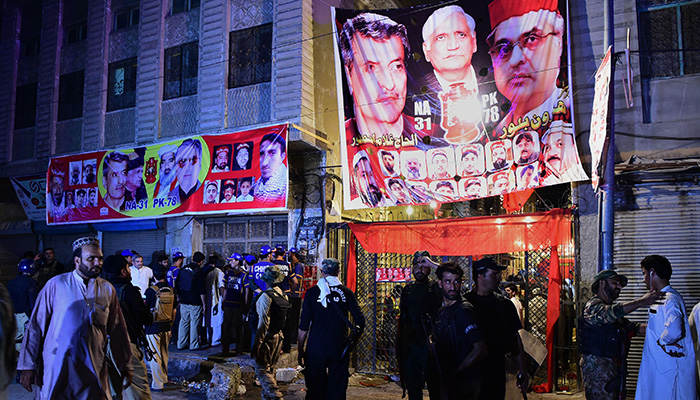 In the last seven days, four attacks have targeted election candidates resulting in at least 157 deaths while over 200 people have been injured.
On July 7, the convoy of Muttahida Majlis-e-Amal (MMA) candidate Shiren Malik was targeted in Bannu. Malik was injured along with six other people and rushed to the nearby DHQ hospital. The attack was carried using a bomb planted in a motorcycle and detonated remotely.
An Awami National Party (ANP) election gathering was the target of the second attack, which was carried out by a suicide bomber in Peshawar on July 10. Among the 22 martyred was ANP leader Barrister Haroon Bilour, who was the party's candidate on PK-78. After the attack, the election on PK-78 was postponed and Bilour's wife has announced she would contest from the seat.
Following his father's death, Daniyal Bilour urged ANP workers not to give up hope. This was not the first life lost to terrorism in the Bilour family. Haroon's father Bashir Bilour, a senior ANP figure, was martyred in a suicide attack in 2012.
On the morning of July 13, Jamiat Ulema-e-Islam-Fazal (JUI-F) leader Akram Khan Durrani's convoy was targeted as it headed back from an election rally in Bannu. Durrani, who is contesting NA-35 from the MMA ticket, survived but four others were martyred. Durrani said he had been informed of threats from police and security institutions.
The fourth and bloodiest attack took place in Mastung, hours after the Bannu attack. The suicide attack targeted Balochistan Awami Party (BNP) provincial assembly candidate Nawabzada Siraj Raisani. At least 131 people along with Raisani, who were present at the election rally, lost their lives. 
Raisani, whose brother Aslam was a former chief minister of Balochsitan, had also lost his 14-year-old son in a suicide attack back in 2011 in Mastung.