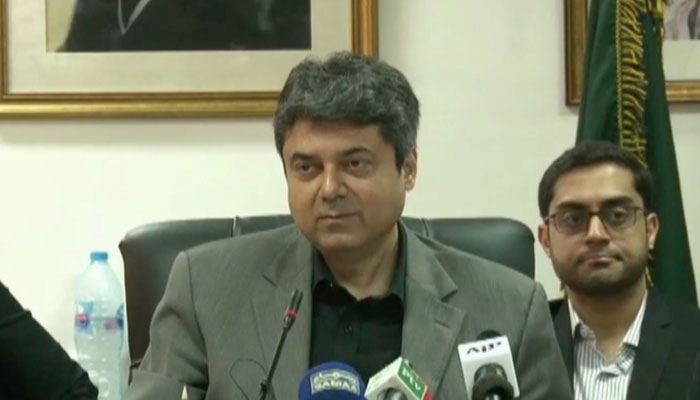 ISLAMABAD: No amendments should be made to Article 184 (3) of the Constitution, which allows the Supreme Court to intervene in order to enforce fundamental rights and to initiate suo motu proceedings on violations of law, said Minister for Law Farogh Naseem.
While speaking on Geo News' show Geo Parliament, the federal law minister also suggested that the right to appeal should not be given to respondents in suo motu cases.
Moreover, he added, the top court also has the authority to use executive powers.
The law minister also spoke on accountability laws, saying the new government would not stip National Accountability Bureau of its authority but would instead strengthen it.
He added they have also drafted a law to bring back the money which was earned through illegal means in Pakistan and then transferred to foreign bank accounts.
About the transfer and removal of judges, the minister said amendments were needed in the relevant laws. He said procedure to remove judges on misconduct should be changed.
Naseem reiterated his stance on treason case against former president General (retd) Pervez Musharraf, saying he did not have any documents on the matter and had also informed Prime Minister Imran Khan about the same.
Earlier, during a meeting, the law minister had refused to comment when asked a question regarding Musharraf. 
Regarding the case against Indian spy Kulbhushan Jadhav, Naseem said they were fighting it with full force in the International Court of Justice.
Commander Jadhav — an Indian navy officer working for Indian covert agency Research and Analysis Wing (RAW) — was arrested on March 3, 2016, from Balochistan after he entered into Pakistan from Iran.
Jadhav was tried in a military court which sentenced him to death for espionage and subversive activities.
In a reaction to the move, Pakistan's relations with neighbouring India tensed, and New Delhi approached the ICJ to hear the case.
On May 18, 2017, the ICJ ordered Pakistan to halt the execution of Jadhav until a final decision was made in the proceedings.