HYDERABAD: Yet another mysterious bank deposit has made an unsuspecting man from Hyderabad an overnight millionaire.

Pardeep Kumar, a driver by profession, was stunned to find Rs49,954,432 listed on his ATM slip when he withdrew his salary on October 8. Just last month, he had Rs18,000 in his bank account, he told Geo News.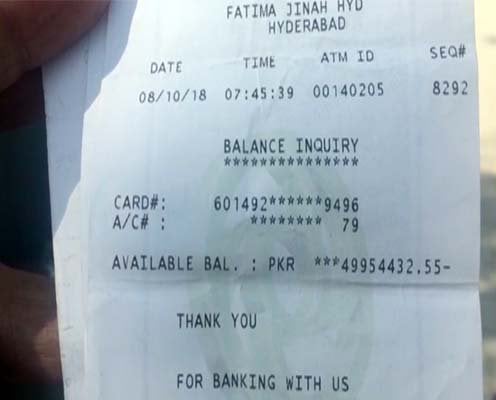 Kumar immediately notified the bank authorities, who have launched an investigation into the incident.
A series of mysterious deposits such as this have surfaced in recent days, as the Federal Investigation Agency (FIA) continues its probe in a high-profile money laundering case involving fictitious 'benami' bank accounts.
Over the weekend, the agency traced a trade account of a student from Larkana with millions of rupees, a week after it found Rs2 billion in a food vendor's bank account.