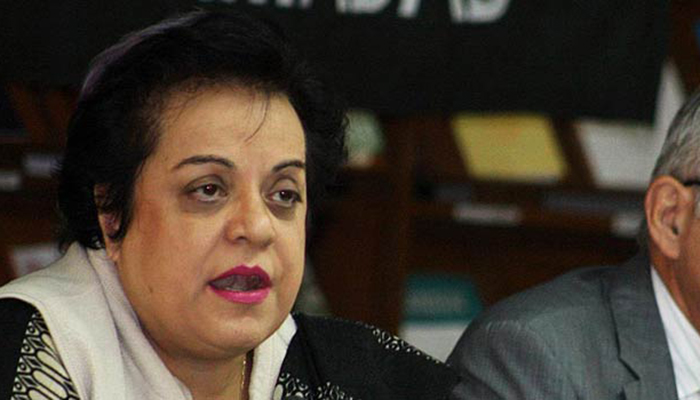 ISLAMABAD: Minister for Human Rights Dr Shireen Mazari on Wednesday criticised the United States' decision to add Pakistan to its blacklist of countries that violate religious freedoms, calling it a "brazen political tactic to pressure Pakistan to mitigate US failures in Afghanistan."
A day earlier, US Secretary of State Mike Pompeo said he had designated Pakistan among "countries of particular concern" regarding protection for people to worship according to their beliefs.

In an official statement shared today, Mazari said, "It was apparent the US was using this as a brazen political tactic to pressure Pakistan to mitigate US failures in Afghanistan. The timing of this move reflects this most clearly."
"There is no doubt Pakistan's record on religious freedom is not ideal but then is the EU's record much better given the restrictions on churches, the banning of certain dress codes of Muslims, refusal of entry of certain preachers – the list continues.." she fired back. 
The minister pointed out incidents of growing religious intolerance in India, and questioned why the country was not blacklisted as well. 
"In our own neighbourhood we have India where Muslims are being targeted and where the BJP is supporting violence against Muslims ostensibly over 'beef'," she said.
"The timing of the US move smacks of pure political blackmailing because it comes in the wake of Pakistan opening the Kartarpur corridor to ease access for the Sikhs of India to their religious places as well as assisting Hindu groups to enter Pakistan for religious purposes when India has sought to prevent Muslims from Pakistan visiting Ajmer for religious purposes.
"The deliberate ignoring of India's shrinking space for its religious minorities by the US while it targets Pakistan is absurd and unacceptable," she added.  
Mazari stressed on the "large and diverse presence of Christian churches in Pakistan" and said she would like to "educate the Trump administration" on this count.
"At the moment the following diverse denominations of Christian churches are present in Pakistan: Catholic, Methodist, Anglican, Lutheran, Baptist, Presbyterian, Pentecostal (three separate groups under this church), Evangelical, Renewalist, Salvation Army and then as a separate entity Church of Pakistan directly linked to Archbishop of Canterbury," she said.
Pakistan has moved to allow its non-Muslim citizens their own personal laws of marriage and divorce in keeping with their religious strictures, she added. 
"While we have to move forward to further improve the condition of all our citizens including our religious minorities and other vulnerable groups, the US's move is not based on any facts but is a purely political move in an attempt to pressure Pakistan to do its bidding. 
"Perhaps President Trump needs to be reminded of Prime Minister's pledge to the Pakistani nation that Pakistan will only act in its own interests and not be a 'hired gun' for any other power," Mazari said.
"It is time for the US to take responsibility for its failures in Afghanistan so that it can do a course correction. And, if it is serious about religious freedoms then it needs to examine the record of Modi's India and some of its EU allies that are moving to curtail the religious freedoms of its Muslim citizens," the minister added.
A statement from the US Department of State said the countries were added to the list under the International Religious Freedom Act of 1998 for having engaged in or tolerated "systematic, ongoing, [and] egregious violations of religious freedom".
"In far too many places across the globe, individuals continue to face harassment, arrests, or even death for simply living their lives in accordance with their beliefs. The United States will not stand by as spectators in the face of such oppression," Secretary Pompeo said in the statement.
"These designations are aimed at improving the lives of individuals and the broader success of their societies. I recognize that several designated countries are working to improve their respect for religious freedom; I welcome such initiatives and look forward to continuing the dialogue," he added.
Nine countries, including China, Eritrea, Iran, Myanmar, North Korea, Saudi Arabia, Sudan, Tajikistan, and Turkmenistan, remained for another year on the list of Countries of Particular Concern. Only one country — Uzbekistan — was removed from the list but is still on watch.