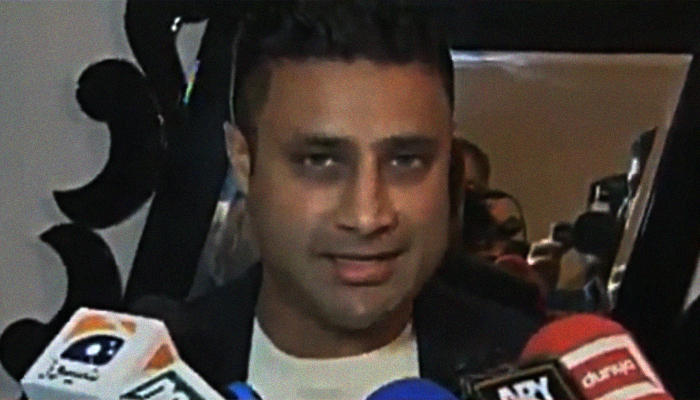 LONDON: Prime Minister Imran Khan's Special Assistant on Overseas Pakistanis, Syed Zulfiqar Bukhari, said Saturday night he was hopeful that the National Accountability Bureau's inquiry regarding him "will conclude soon".

The PM's assistant, known popularly as Zulfi Bukhari, was speaking to media personnel here in the city, and also met with a delegation from the Pakistan Press Club UK International (PPCUK).

Commenting on the death of Mian Javed, a former official of Sargodha University who passed away Friday following a "cardiac arrest" while under custody, Bukhari noted that it was "tragic that the professor died while being handcuffed".
NAB drew severe criticism after pictures of the deceased official's body, showing his handcuffs still on despite having died, went viral on social media.
The anti-graft body had arrested Javed earlier in October along with former Sargodha University vice-chancellor Dr Mohammad Akram Chaudhry and four other university officials for alleged corruption.

"There's a need to make some changes in the NAB's laws," the premier's assistant said, adding that "all of the Pakistani institutions need to be strengthened".
Bukhari further commented on the issues pertaining to overseas Pakistani, stressing that they were on the top priority in PM Khan's agenda.
"Overseas Pakistanis' complaints about phones are correct and justified. I'm working on making the registration of mobile phones easier," he said.
"There is no tax on mobile phones for personal use, and we've taken notice of the queues at the airport for mobile registration."
The government official explained that Khan would take along the overseas Pakistanis with him, implying that the premier would not ignore them.
"Lawmaking for the dual citizenship-holders is in the process," Bukhari mentioned, adding: "I'm not just the PTI's [Pakistan Tehreek-e-Insaf] but all overseas Pakistanis' minister as well."