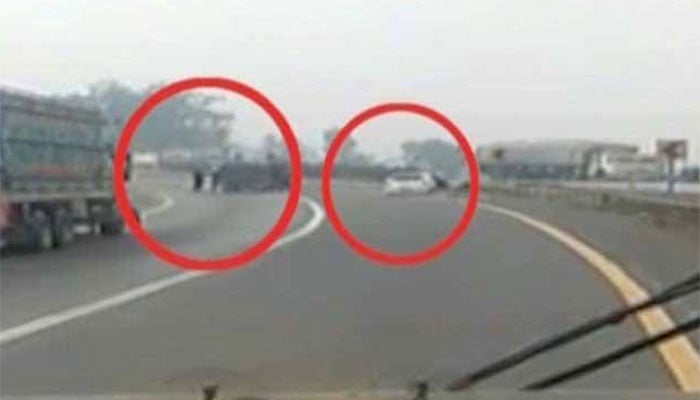 ISLAMABAD: It was January 14 — four days before Sahiwal killings — when special security forces killed one of Daesh's kingpins Adeel Hafeez in a secret operation in the suburbs of Faisalabad. In the same encounter, eight other Daesh fighters, including deputy emir of Daesh Punjab chapter Umar Hayat alias Master Imran, fled from the site.
Later, on January 16 — two days before Sahiwal encounter — special security forces conducted another secret operation in Chungi Ammar Sidhu, Lahore where Daesh fighters Shahid Jabbar, Abdul Rehman and Kashif were believed to be hiding. But special commandos of Counter-terrorism Department (CTD) Punjab could not capture Daesh operatives, who had planned to target high profile figures in Dera Ghazi Khan, Kabirwala, Gojra and Lahore. The next day (Jan 17), a high scale threat alert was issued by Punjab counter terrorism authorities revealing 'Daesh fighters can attack few key figures and are planning a big-scale activity on January 20.'
Background interviews/communication with senior officials associated with the Joint Investigation Team, Punjab government, CTD, police, intelligence agencies and home department by Geo News in the past four days revealed: "The bone chilling massacre of innocent family by CTD Punjab on January 19 in Sahiwal was a complete intelligence failure, serious culpable negligence showed by the operation team, serious blunder and poor cover up."
A network of nine Daesh fighters — Adeel Hafeez, Umar Hayat alias Imran, Abdul Wahid, Abdul Rehman, Shah Ji, Muhammad Anwar, Muhammad Kashif alias Kashi, Samiul Haq son of Abdur Rehman and Muhammad Rizwan alias Dr from Multan — was unearthed by security forces, informed intelligence operatives on Tuesday.
They all were having bounty on their heads worth some Rs30 million and equally listed on 21st Red Book of CTD Punjab last year.
"Problem began when Adeel Hafeez was killed in a secret operation supported by intelligence operatives last week," revealed a senior security operative who was familiar with the development.
The CTD operators strongly believed that Adeel Hafeez had been living in Chungi Ammar Sidhu, Lahore, an area adjacent to Zeeshan Javed's temporary residence, the driver of vehicle in the Sahiwal encounter.
"The vehicle in question, driven by terrorist Zeeshan, transporting the Khalil family was owned by dangerous terrorist Adeel Hafeez," claimed a CTD top ranking officer.
"Adeel Hafeez had purchased this car through OLX on May 9, 2018. Now it is very clear that Zeeshan had given refuge to terrorists of Daesh," another top official claimed.
Another security operative said that the Punjab Daesh network had owned this car and that Khalil family was given a ride in this car which was on CTD and intelligence agencies' radar. However, the victims' families have vehemently denied the allegation, seeking strict legal action against them. The families have termed it an act of "state terrorism."
As per Excise and Taxation Department record, the car is registered in the name of Azeem Liaqat. Driver Zeeshan and his friends were facilitating the network in two houses in Chungi Amar Sidhu, Lahore, claimed another intelligence operative, who did not want to be named.
He said that later on both houses were handed over to other unknown people last month. On January 19, as Zeeshan picked up the family in the particular vehicle, intelligence agencies and CTD operators said that a few fighters of Daesh Network were traveling with the family so that police did not search such vehicle thoroughly.
They assumed that two key Daesh fighters—Umar Hayat alias Master Imran and Abdul Wahid—were traveling in this car, informed officials claimed. These Daesh fighters were wanted in kidnapping and murder attempts cases of ex-Prime Minister Yousaf Raza Gilani's son Ali Haider Gilani, ISI Inspector Omar Jilani, nephew of ex Chief Justice of Pakistan Tassaduq Jilani and four intelligence operators in Multan, Sahiwal and Faisalabad. Based on this information, CTD commandos being backed by intelligence operators started following the family which ultimately led to the Sahiwal killings last Saturday, revealed the preliminary findings/interactions with officials.
CTD operatoives, based on information shared by intelligence agencies, also believed that three other Daesh fighter— Abdul Wahid alias Tiger, Adul Rehman and Abdul Wahid who were also involved in kidnapping cases of Ali Haider Gilani and Omar Jilani were waiting for them in Shah Saddar Din, an area of Dera Ghazi Khan district, revealed another senior official assisting Joint Investigation Team assigned to probe the Sahiwal encounter.
Three senior serving officials associated with Punjab security department, Geo News spoke to off the record, admitted that this incident happened due to serious culpable negligence by the operation team, wrong information, major blunder and poor cover up. How was Khalil Family trapped to take a ride in this car, why was Zeeshan driving this car and what image of Daesh network the operation team had when they stopped the car? Said the officials.
They also suggested that there is a dire need to define rules of engagement in encounters such as making attempt for arrest instead of firing.
They also stated that procedures for verification of information received from the intelligence agencies must be defined, modern gadgets to detect whether the other side is carrying weapons or not must be adopted and live-capturing of encounters should be adopted in such encounters.