TAUNTON: Pakistan will be facing Australia, the current World Champions, on Wednesday at County Ground in the seventeenth match of the World Cup 2019. The match is scheduled to begin at 2:30 pm (PST).

Let's take a look back at some of the everlasting remarkable World Cup moments between the two.

Semi-Final, ICC World Cup at Lahore, Nov 20, 1987
Australia was boosted by Craig McDermott, who knocked down the Pakistani batting line-up by taking 5 wickets for 44 runs in the semi-final. 
Pakistan, despite cementing their lead on the board, tattered on 249 while chasing 267, losing their hopes for making into the final. 
Aussies were looking to put 300 on board until Imran Khan dismissed their three batsmen in five overs and Pakistani bowlers giving off 34 runs as extras. David Boon (65) remained the highest scorer for Aussies, while Javed Miandad scored 70 to help Pakistan reach the target.
16th Match, ICC World Cup at Leeds, May 23, 1999
Pakistan's hot-pacer Wasim Akram (4-40) and the maker of "Doosra" Saqlain Mushtaq (3-51) wiped out Australian power hitters as they had to chase 276, leaving no chance of a win for the opponent.
Australia lost its pace as the stable Michael Bevan (61) was dismissed in the 42nd over. This defeat made it mandatory for the Aussies to win all of their upcoming seven matches in order to grab the World Cup trophy.
Little less they knew, they had to meet again in the final.
Final, ICC World Cup at Lords, Jun 20, 1999
After getting knocked down by Pakistan in the sixteenth match, Aussies ensured their spot in the final of the tournament against the men in green.
Man of the Match, Shane Warne picked up 4 wickets for 33 runs, restricting Pakistan to 132-all out in 39 overs. Ijaz Ahmed (22) remained the top scorer for team green.
Australian top-order achieved the target on a loss of 2 wickets in the 21st over cruising to become World Champions 1999.
4th Match, ICC World Cup at Johannesburg, Feb 11, 2003
From 146-5 to 310-8, Andrew Symonds rose as a hero and a saviour for Australia during the 2003 ICC World Cup. 
With controversial comments for his selection, Symonds' maiden century and a knock of 143* served as a glue that held the Aussies together against Pakistan's potent bowling attack including Wasim Akram, Waqar Younis, and Shoaib Akhtar.
However, the men in green couldn't stand stable and were collapsed at 228 in the 45th over.
3rd Quarter-Final, ICC Cricket World Cup at Adelaide, Mar 20, 2015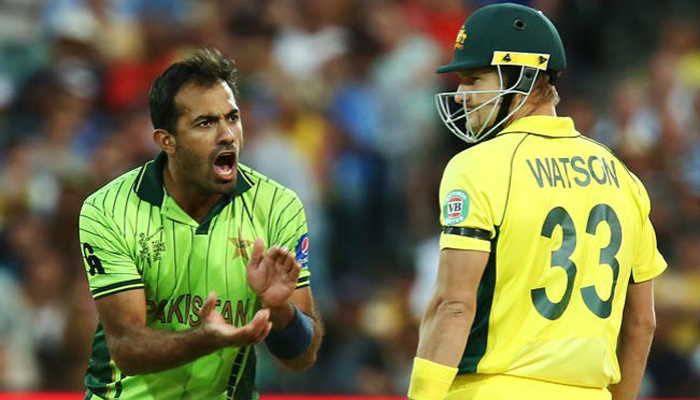 Batting first, the men in green were able to put 213 runs on the board as JR Hazlewood made the ball talk by dismantling the Pakistani batting order, picking up 4 wickets for 35 runs. 
Although Wahab Riaz tried his best to put a hex on Australian power hitters, Pakistan's shoddy fielders didn't do justice with one of his most fearsome spell of 2-54 after dropping Watson's catch at fine-leg.

As it is said that catches win matches, Watson's dropped catch came out to be rapid bumper for his side, cruising Australia to victory in the 34th over of the game.
Overall, Pakistan and Australia, both the teams have shown an immense display of match-winning performances throughout mega-events. Pakistan-Australia's encounter in the World Cup 2019 will be a battling match to watch for. 
Kangaroos will aim to hit top-notch against Pakistan to get their campaign back on track as India broke their winning streak in the last match. Meanwhile, Pakistan will require a mandatory win against Aussies and ahead to make into the top four of World Cup 2019.