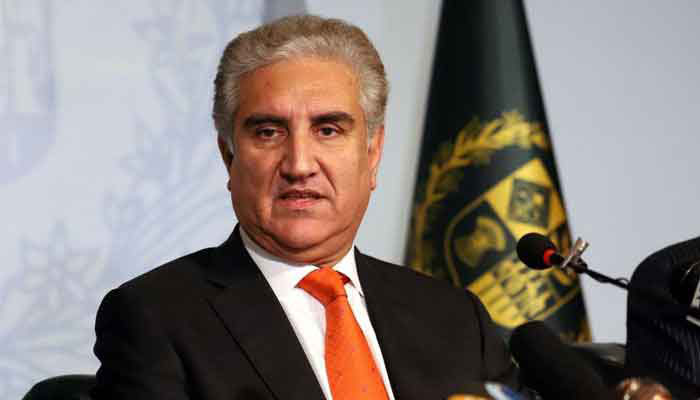 ISLAMABAD: Foreign Minister Shah Mehmood Qureshi on Thursday announced that Pakistan would be approaching the United Nations Security Council (UNSC) over India's move to revoke Article 370.

During a news conference, Qureshi said he hand conveyed to his Indian counterpart S Jaishankar that New Delhi's stance of revoking Article 370 being an internal matter had been dismissed by Islamabad. "I said this was not right and Pakistan dismisses this stance. Occupied Kashmir is an internationally recognised dispute. There are several UNSC resolutions on this and making those as the basis we have decided to once again go to the UNSC."

The foreign minister also dismissed S Jaishankar stating that revoking the special status of occupied Kashmir was aimed at the socio-economic development of the valley's residents. "If this was the case what stopped them [India] from taking such measures when Article 370 was made part of the Indian constitution seven decades ago." 
Qureshi also brought attention to the countless times former Indian prime minister Jawaharlal Nehru had made promises and commitments of Kashmir's future being decided by goodwill and pleasure of the people of the valley. 

Earlier this week in a rushed president decree, India revoked Article 370 which granted special status to occupied Kashmir.

A statement by India's External Affairs Ministry termed the decision an internal matter. The statement also regretted Pakistan's steps of expelling Indian High Commissioner Ajay Bisaria and suspending bilateral trade. 

The Pakistani foreign minister also dismissed reports that the country's airspace had been closed and of changes in plans for the Kartarpur Corridor. 

"Pakistan wants to send a message that we respect all religions and minorities. I hope the people in India also speak out against the lynching of Muslims there," Qureshi said on people to people contact in relation to the Kartarpur Corridor.  

Qureshi also asked if India would use force against protesters in occupied Kashmir when the curfew is lifted in the valley. 

"I want to turn the world's attention to our fear that India can conduct a new false flag operation. There can be a drama like Pulwama 2 to divert the attention of the world," he added.  

According to the foreign minister on the issue of occupied Kashmir, Pakistan was looking at political, diplomatic and legal options. He stated that the country was not looking at a military option.
"The additional deployment of 900,000 troops by India is the largest anywhere in the world…We have taken the decision to safeguard and be vigilant against any misadventure."  
Qureshi stressed that the first line of defence was a diplomatic offensive which was being used by Pakistan. 
The foreign minister informed reporters that the world would take time to respond and form public opinion. "India is presenting explanations after we downgraded relations."

According to Qureshi, by taking a unilateral decision in occupied Kashmir, India had attacked the spirit of the Shimla Agreement. 

When asked if the situation in occupied Kashmir would have an impact on the Afghan talks, Qureshi said, "Our role as a peace facilitator in Afghanistan is being done out of goodwill. This will continue but we feared there might be spoilers… Pakistan was and will remain committed to the peace process."