KARACHI: Torrential downpour and urban flooding left at least 12 people dead due to electrocution and various other rain-related incidents in Pakistan's southern port city on Sunday, wreaking havoc in the metropolis and bringing life to a standstill.

The death toll rose to 12 after three motorcyclists were electrocuted to death on Khayaban-e-Shahbaz in the Defence Housing Authority (DHA). They received the electric shock from a pole from which current had spread out into the surrounding rainwater.

Reportedly, police officers had to attach and use a rope to remove the deceased's bodies from the rainwater.
Separately, numerous sacrificial animals were also reportedly electrocuted to death as they were kept outside on the streets, tied to the electrical poles.
The uninterrupted downpour — recorded at almost 200 millimetres (mm) — that started Saturday morning created a critical situation in Karachi. Various areas were hit with severe, hours-long power outages as heavy rain continued in the metropolis and other parts of Sindh. 
Karachi's sole power supplying company, K-Electric, announced on Sunday that some areas would not receive power even on Eid days. A spokesperson said the main challenge in working to resume the power supply was due to the flooding in the grid stations and installation areas.
On its Twitter account, the KE said: "you may face power interruptions during Eid days due to torrential rain & urban flooding. Our teams are on ground to ensure swift and safe power supply restoration, however water-logging remains our biggest challenge
A large number of locales in Karachi experienced a sudden blackout as a major power outage hit the city at the first drop of rain Saturday night. The continuing unavailability of electricity, as of reporting time, has exceeded 12-18 hours in some areas.

Urban flooding
Major thoroughfares were drowned under several feet of rainwater, with drains and canals in the city overflowing and low-lying residential areas submerged in the water pouring in from the streets outside.

Among the big roads that remained flooded were Shahrah-e-Faisal, Shahrah-e-Pakistan, M.A. Jinnah Road, I.I. Chundrigar Road, and University Road. Apart from those, the Super Highway (M9 motorway), Northern Bypass (M10 motorway), and the National Highway were also submerged in rainwater.

The Pakistan Meteorological Department (PMD) had earlier issued a warning of the danger of major urban flooding, which, unfortunately, came true.
The low-lying neighbourhoods of Karachi that were heavily flooded included Surjani Town, Baldia Town, Orangi Town, New Karachi, North Karachi, Gulshan-e-Hadid, Malir, Landhi, Korangi, and Manghopir.
Most of the houses in these areas had rainwater seeping in.
On the other hand, life in localities such as Clifton, the DHA, the Pakistan Employees Cooperative Housing Society (PECHS), and Old City Area was also brought to a standstill as most of the streets had several feet of water on them and, therefore, were unusable.

The Malir River and Lyari River also overflowed, while water levels in the Lath and Thado dams rose over the standard and went over the spillway, causing flooding in the nearby areas.
Breakdown of rainfall recorded
According to the PMD, the most rainfall was recorded in Surjani Town with 150.6mm, followed by Gulshan-e-Hadeed at 149mm. Some 126mm rainfall was recorded at the Jinnah International Airport, while 117.5mm in Landhi.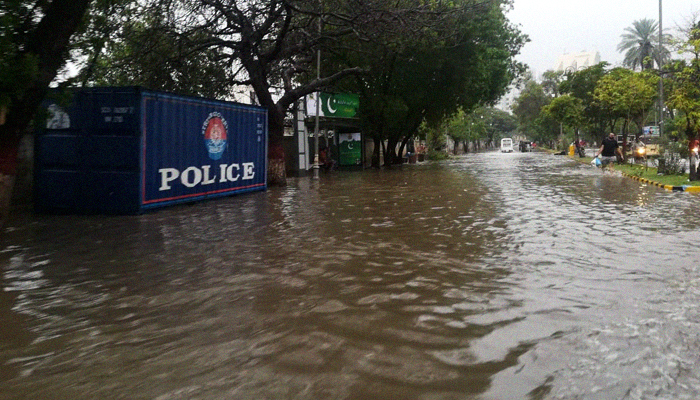 In Pakistan Air Force's (PAF) Base Masroor, 110mm rainfall was recorded, while 121mm was recorded at Shahrah-e-Faisal in the past 24 hours. Nazimabad experienced 109.2mm worth of rainfall while Gulistan-e-Jauhar received 110.2mmm.
The intermittent spell would continue for the next 36 to 42 hours, the PMD added in its weather advisory on Saturday.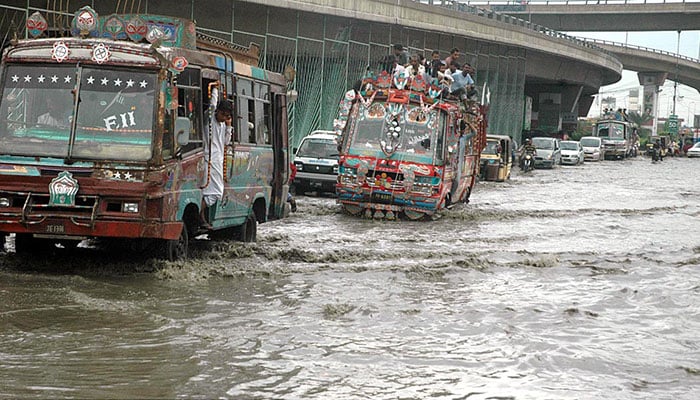 The metropolis's low-lying areas that were prone to urban floodings — such as Landhi, Ilyas Goth, Ibrahim Hyderi, Majid Colony (Union Council-4), Shah Faisal Colony, Malir, Scheme 33, Rehri Goth, and Korangi — were again inundated, with reports of water accumulating around power installations and entering homes.
K-Electric 'severely hampered'
In a series of tweets, the KE said it had temporarily suspended power to areas that were in a state of urban flooding, citing public safety.
"Restoration efforts are also severely hampered because of the challenging conditions caused by the relentless rain and water-logging which is now posing a serious threat to electrical installations," the KE said.

"We urge civic bodies to ensure drainage of water as a prerequisite for the safe and swift restoration of power," it added.

In another tweet, the power supply company said, power supply to parts of Bin Qasim, Korangi, Landhi, and North Karachi had been deliberately suspended. However, power supply to most parts of Society, PECHS, Defence, Tariq Road etc is undisrupted.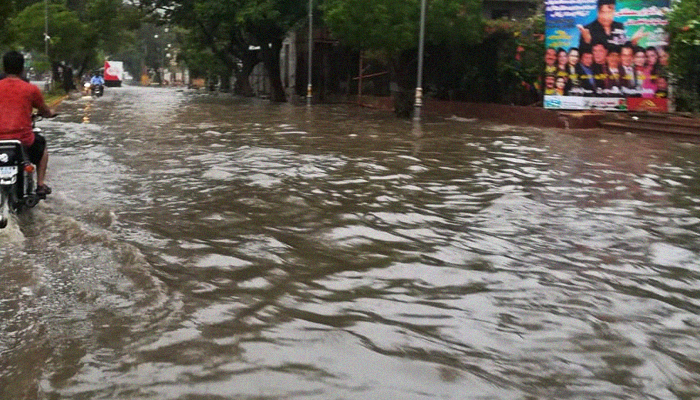 "Our teams are available round the clock to restore and handle any localised faults. We regret the inconvenience and are grateful for your patience in this regard," it added.

In Hyderabad, Matiari, Hala, Tando Muhammad Khan, and Mirpurkhas, low-lying areas experienced urban flooding along with power outages.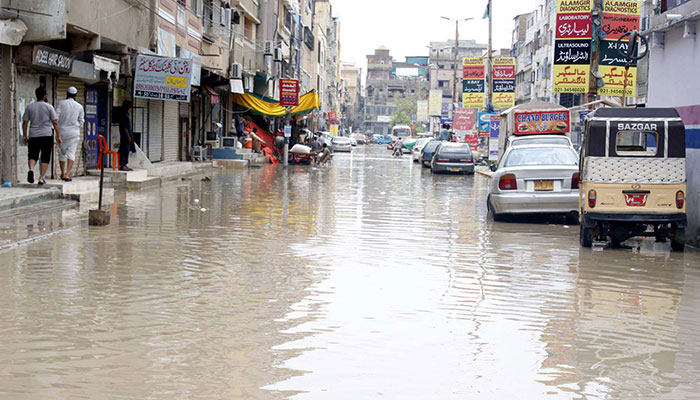 Hyderabad Commissioner said power supplier Hyderabad Electric Supply Company (HESCO) has yet to restore power to the city, despite no rain. "Due to the power outage, 120 pumping stations have stopped working and we have not been able to drain the water," he added.
Pak Army, Rangers rescue operation
Contingents of Pakistan Army and Rangers arrived at the KDA grid station to remove water along with helping in removing submerged cars on the roads.
In Saadi Town, a contingent of Pakistan Army worked through the night at a cattle market to remove water from low lying areas. 
—Additional reporting by Tariq Moin Siddiqui in Karachi