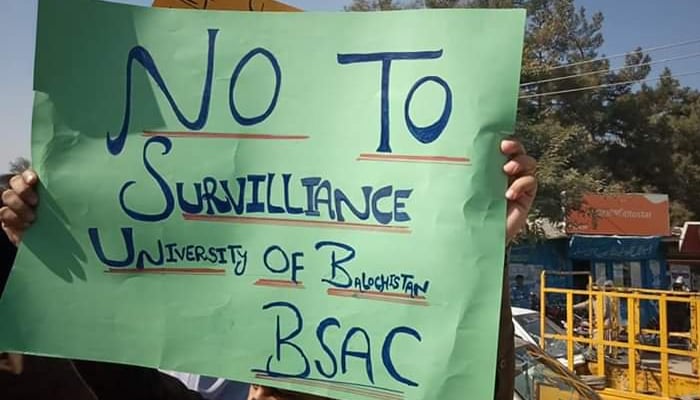 QUETTA: The Federal Investigation Agency (FIA) on Tuesday submitted a sealed initial report on the surveillance 'camera scandal' at the University of Balochistan (UoB) to the Balochistan High Court (BHC).
A two-member bench, led by the chief justice of the BHC, Justice Jamal Khan Mandokhail, presided over the hearing pertaining to a constitutional petition over the surveillance 'camera scandal'. FIA officials, however, requested the BHC to keep the report's contents sealed and secret until their investigation was completed.

Balochistan Advocate General Arbab Muhammad Tahir Kasi, UoB Acting Head Professor Anwar, FIA officials, as well as the members of a parliamentary committee probing the scandal were present at the hearing.

Also read: Senate committee to visit UoB over 'camera scandal'
The bench remarked, consequent to the FIA's request to keep the report's contents sealed, that it was monitoring the case very seriously and no one should have any misunderstandings about it. It advised the university's administration to decide — in consultation with Prof Anwar, the parliamentary committee's chief secretary, and the deputy commissioner — as to whether security officials should be posted at the varsity or not.
The BHC asked the FIA to carry out the investigation and noted that action would be taken against those involved in the scandal, no matter who they were.
Read more: UoB Vice Chancellor steps down amid harassment inquiry
Justice Mandokhail told committee that the BHC, as well as the entire province, was looking towards it in this regard. "Our daughters, sisters, brothers are studying" in the UoB and this was a problem of Balochistan.
In response, Mahjabeen Sheran Baloch — the committee's chairperson and a member of the provisional assembly (MPA) — told the court that they had a meeting earlier and visited the university as well. An ad informing any person affected by the scandal that they could contact the committee was also sent out, she said.
The hearing was adjourned to November 14, 2019, when the BHC has sought the final report.