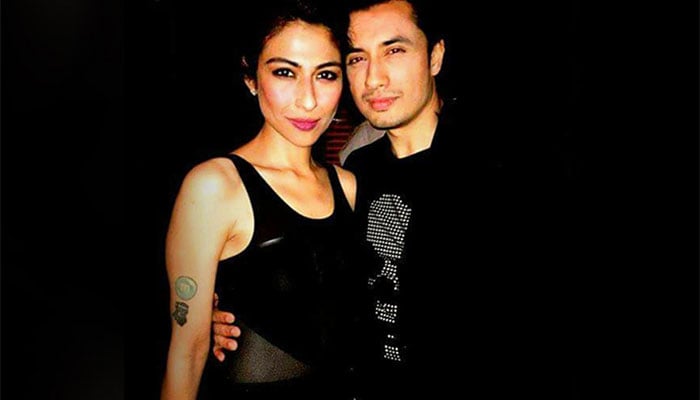 The manager of Meesha Shafi on Wednesday recorded his statement before a court in the Rs 1 billion defamation case filed by Ali Zafar against the singer, saying he was present at the jam session but did not personally witness the alleged sexual harassment.
According to a copy of the statement available with Geo News, Syed Farhan Ali, a musician himself, said he has been managing Shafi on a project-based basis for the past four years. 
Farhan said that he was present at the music session during which Shafi alleged that Zafar had harassed her. He told the court that he had not personally witnessed any act of sexual harassment from Ali Zafar. 
"I was not focusing on the plaintiff or the defendant. I did go out of the room a couple of times so cannot confirm whether or not any harassment happened," he added, clarifying his previous remarks. 
However, the witness did confirm that after the session was over, Shafi told him that Zafar made her uncomfortable and "was not a good person", and even that she hated him.
"After the show was over, she further told me that in any future show or concert, she would not work with Zafar," he added. 
Farhan further said that at a sponsored music contest later, Zafar was added to the participating cast with Shafi but she refused to work with him.
In the ensuing dispute resolution, despite a number of efforts made by sponsors of the contest to change Shafi's mind, an agreement could not be reached, he said. 
"As a result, Meesha was forced to go public with her sexual harassment allegations despite my advice against it. I told her people would abuse her and she would lose her work too," testified Farhan. 
However, the manager also noted that he had heard about the harassment allegations against Zafar from other women as well, both on the internet and in person, when another victim had confided in him. 
"I don't see any motive behind the allegation of Meesha Shafi against Ali Zafar as I saw it as a battle of right and wrong. I have no idea as to whether she wanted to trigger the MeToo movement in Pakistan."
He maintained that he did not know as to whether Shafi had received foreign funding to launch this movement in this country. "She sends her tax returns through me, and they have decreased," he said. 
Last year, Meesha publicly accused singer Ali Zafar of sexual harassment, saying in an April 2018 tweet that Zafar had harassed her "on more than one occasion". 
Zafar denied the accusations and filed a defamation case against the singer and actress. The case has had multiple hearings over the past year.
Separately, Meesha also filed a defamation suit worth Rs2 billion against Zafar for allegedly making false remarks on media that were damaging to her reputation and goodwill.