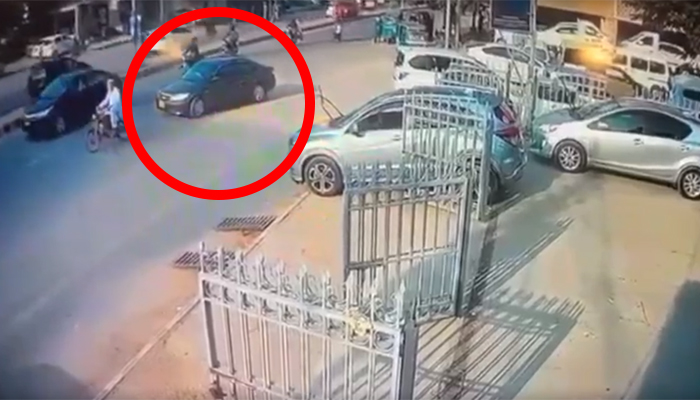 KARACHI: The men who allegedly kidnapped a young woman from the metropolis' upscale neighbourhood, Defence Housing Authority (DHA), are suspected to have used a car that was snatched from P.E.C.H.S. last week.

The station house officer (SHO) of Ferozabad Police Station, Inspector Aurangzeb Khan Khattak told Jang that a car that was snatched from a trader, Danial Javed, at gunpoint in the city's P.E.C.H.S. Block 2 was suspected to have been used by Dua Nisar Mangi's kidnappers, who abducted her in public in Bukhari Commercial, alternatively known as Bara Bukhari, in DHA Phase 6.
According to Khattak, four armed robbers had snatched Javed's car — a Honda Civic (AJL-057) — at gunpoint from outside his residence and a first information report (FIR) was subsequently registered at Ferozabad Police Station.
According to police sources, the car used in the November 30 kidnapping of Dua Nisar Mangi was possibly the same one that was snatched three days prior to the abduction. Sources in the police's investigative team said the car seen in the closed-circuit television (CCTV) camera footage was exactly the same one.
Read more: Girl kidnapped from Karachi's DHA area
The investigation team was also looking at the kidnapping from the angle of demanding ransom, police sources said, adding that they had also included in their probe the issue of a young man trying to forcefully marry and blackmail Mangi while she was studying in the United States.
Police officials claimed that they were investigating the angle of a ransom demand due to the girl's social status that they alleged she had talked about with her friends.
Police sources further noted that the young man, who attempted to forcefully marry Mangi while she was in the US, started threatening her after she declined his offers and propositions. While blackmailing, that man also threatened to share and make viral certain pictures of the young woman if she continued to turn down his advances and refused to marry him, the sources added.
The sources explained that Mangi's phone, which she dropped as she tried to save her friend, Haris Soomro, who was shot and critically wounded, was taken into police custody. Police was using the data from the mobile phones of Soomro and Mangi to help take the investigation forward, they added.
Soomro was admitted to a private hospital near Karachi's National Stadium, where he remains in critical condition.

Separately, at least 22 people — including Mangi's elder sister, the waiters and the guards present at the scene, and the customers — have recorded their statements with the police, who said they have expanded the scope of their probe.
Further, the deputy inspector-general (DIG) of police for District South, Sharjil Karim Kharal, noted that Mangi had been frequenting the roadside restaurant for the past four months and was specifically going there and spending a lot of time in the last four or five days.
DIG Kharal added that Mangi's elder sister was also present at the same restaurant.

Earlier today, Kharal had told Geo News that a special team was probing the matter and had achieved some progress in light of the evidence gathered. A casing of the bullet that hit Mangi's friend, Soomro, was collected from the crime scene, he had said.
Police on Sunday had lodged an FIR, naming at least four unidentified persons, over Mangi's abduction and shooting and wounding Soomro.