Foreign Minister Shah Mehmood Qureshi on Sunday said that Pakistan will not join any war in the region but will continue to play a vibrant and positive role for establishment of lasting peace.

Qureshi made the remarks late on Sunday when he met Iranian President Hassan Rouhani in Tehran amid heightened tensions in the Middle East following the assassination of a top Iranian general earlier this month.
Tensions between Iran and the United States have spiked in recent weeks after the US killed Iranian commander Qassem Soleimani in a drone strike in Baghdad. Iran retaliated by targeting a US base in Iraq.
Also read: Do not kill your protesters: Trump warns Iran
Following the developments, Prime Minister Imran Khan had directed Qureshi to meet with Iranian and Saudi leaders to underscore the need for immediate and collective efforts for a peaceful resolution of disputes.
In his meeting with the Iranian president, FM Qureshi called for "using the diplomatic means" to reduce the tension in the region and "resolve outstanding issues amicably and peacefully".
During the meeting, which encompassed the US-Iran tension, regional peace and the multifaceted Pak-Iran ties, the foreign minister said both the countries enjoyed "deep historic, religious, cultural brotherhood".
Also read: Volley of rockets target Iraq base hosting US troops: reports
In reference to recent statements made by the Iranian leadership, the foreign minister appreciated the restraint shown by Tehran and said that the region could not afford any more tension or confrontation.

"Pakistan will not join any war in the region; however, it will continue playing a vibrant and positive role for establishment of peace in the region," the minister told Rouhani. 
FM Qureshi also thanked Iranian Supreme Leader Ayatollah Ali Khamenei and President Rouhani for supporting Pakistan and raising their voice against the Indian atrocities in Indian occupied Kashmir.

Also read: Satellite images show damage to Al-Asad base in Iraq after attack on US troops
Appreciating the remarks of Qureshi, Rouhani lauded the peace building efforts by Pakistan and clarified that Iran did not want to increase the tensions in the region. 
In a message posted on Twitter early Monday, FM Qureshi said that he had held a constructive and positive meeting with the Iranian President on Sunday in which he reiterated the need to deescalate tensions.
"We are committed to exercising every diplomatic effort to achieve regional security and are clear Pakistan soil will not be used for war," the foreign minister said in the message for his followers on Twitter.
FM Qureshi will also visit Riyadh today to hold talks with Saudi Foreign Minister Prince Faisal bin Farhan and consult on the issues of regional peace and stability.

Iran favors de-escalation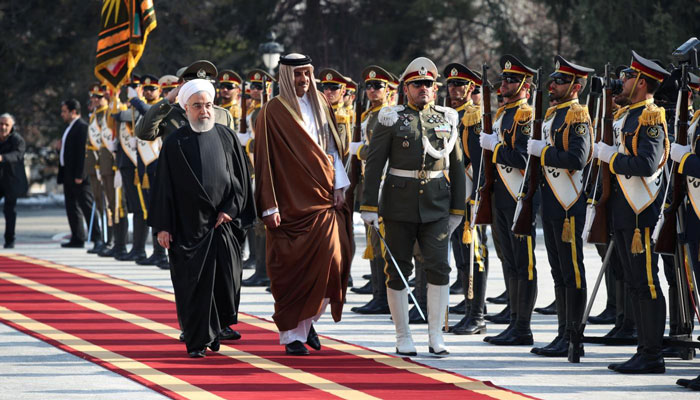 Iran signaled Sunday it favors a de-escalation after 10 days of heightened tensions with the United States during which both sides fired missiles and Tehran accidentally shot down a passenger aircraft.

In a meeting between Iranian President Hassan Rouhani and the visiting emir of Qatar, both sides agreed de-escalation is the "only solution" to the regional crisis, the emirate's ruler said.
Also read: Trump warns Iran against 'massacre' as protests erupt over Ukrainian jet downing
Qatar hosts the largest US military base in the region but also enjoys strong ties with Iran, with which it shares the world's largest gas field.
"This visit comes at a critical time in the region," Emir Sheikh Tamim bin Hamad Al-Thani said on what was believed to be his first official visit to the Islamic republic.
"We agreed … that the only solution to these crises is de-escalation from everyone and dialog." For his part, Rouhani said: "We've decided to have more consultations and cooperation for the security of the entire region."
Abe warns conflict with Iran impacts entire world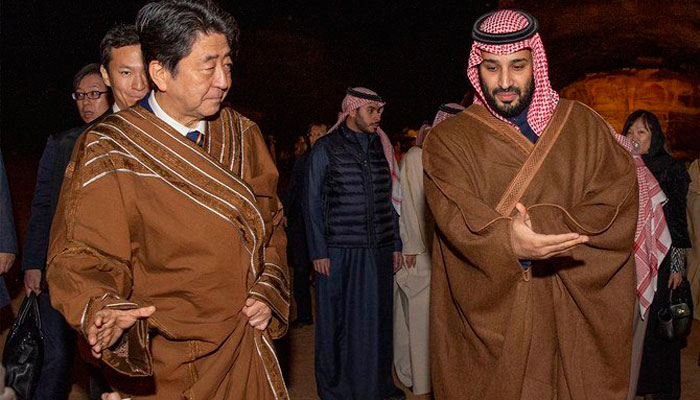 Japanese Prime Minister Shinzo Abe has also warned that military confrontation with Iran will impact global peace and stability, as he visits the Middle East hoping to ease US-Iran tensions.
On Sunday, Abe discussed regional tensions during an hour-long meeting with Saudi Crown Prince Mohammed bin Salman in northwestern Al-Ula province, according to foreign ministry spokesman Masato Ohtaka.

"Any military confrontation in the region that includes a country like Iran will have an impact not only on peace and stability in the region but the peace and stability of the whole world," Abe said on the occasion.
Also read: Japan's Abe offers Saudi crown prince help in reducing oil dependency
Abe called "on all relevant countries to engage in diplomatic efforts to defuse tensions", Ohtaka added. The spokesman said the two leaders agreed on working closely on maritime security in the region. 
Japan, however, will not join a US-led coalition in the region. Tokyo has walked a fine line in balancing its key alliance with Washington and its longstanding relations and interests with Tehran.
With additional input from AFP and APP