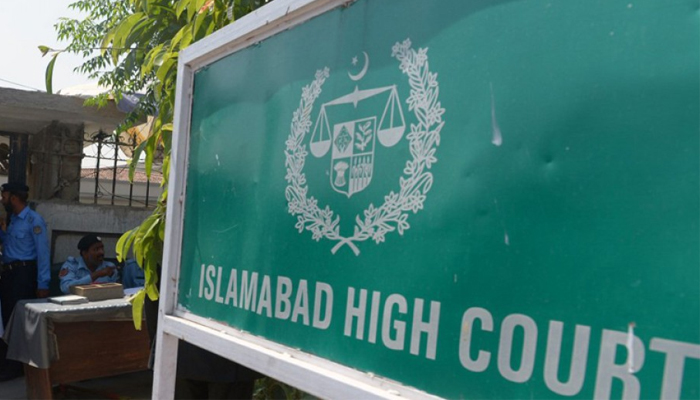 ISLAMABAD: The Islamabad High Court (IHC) on Monday wrapped up bail petitions filed by 23 workers from the Awami Workers Party (AWP) and the Pashtun Tahaffuz Movement (PTM) after the Islamabad administration said it was dropping all charges against them, local media reported. 
IHC Chief Justice Athar Minallah had resumed hearing the bail pleas filed by the protesters on Monday morning when he was informed by Islamabad Deputy Commissioner Hamza Shafqaat that all charges against the 23 had been dropped by the administration. 

Wrapping up the hearing, the IHC chief justice said the petitions had become ineffective after the Islamabad administration's decision. 
Also read: IHC grants bail to 23 protesters detained on sedition charges

During the hearing today, Justice Minallah remarked that a democratic government was not expected to curb the freedom of expression. 
"An elected democratic government cannot place curbs on the freedom of expression. [It] shouldn't fear criticism," he remarked.
"The constitutional courts will protect the constitutional rights of the people. Everyone's constitutional rights will be protected. This is Pakistan, not India," Justice Minallah was quoted as saying by Dawn.com. 
"If you want to protest, get permission. If you don't get permission, the court is here," he said while addressing the protesters, 
He said that neither the state nor its institutions were so weak that mere words would have any impact on them. 
Also read: PTM leader Mohsin Dawar released after brief detention
The president of the Awami Workers Party in Punjab, Ammar Rashid, took to Twitter to share the news. 
"Thank you to all who stood with us in solidarity. Hope this sets a lasting precedent against the criminalization of dissent," he said.
Earlier this month, the Islamabad High Court (IHC) had granted bail to the 23 protesters, who had been detained while they were protesting the arrest of PTM leader Manzoor Pashteen. 
MNA Mohsin Dawar, who was also detained, was released shortly thereafter, but other protesters were booked under sedition charges. 
The counsel for the petitioners had contended that the cases against the accused were based on mala fide intent. 
According to the deputy commissioner, the clauses pertaining to sedition were later removed from the FIR after the IHC expressed its annoyance over the move.