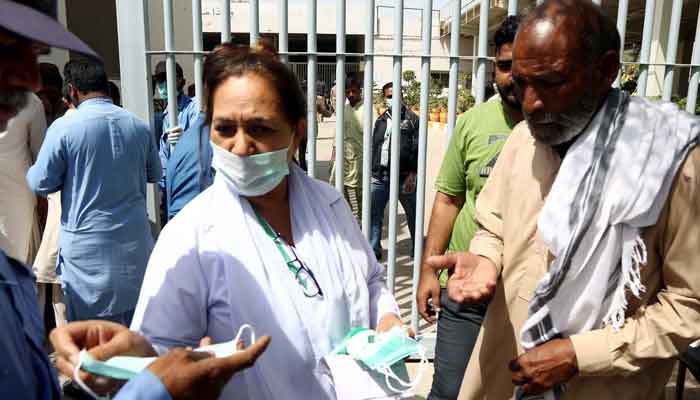 KARACHI: Nine new cases of coronavirus were confirmed in Karachi on Monday, marking the biggest increase in the number of patients and bringing the city's tally to 16, a few hours after the province's fifth one was confirmed.
A spokesperson for the provincial health department said Monday six of the new patients had returned to Pakistan from Syria via Doha, Qatar, while the other three arrived from London via Dubai. Of them, a 53-year-old man — a resident of Karachi — was shifted to a quarantine facility alongside his family.
At present, 16 infected people were under treatment, the spokesperson added. The first patient of coronavirus, on the other hand, recovered last week and was discharged.
Related: Here's what you need to know about coronavirus
In total, 16 cases of coronavirus have been reported all over Pakistan so far.

Sindh Health Secretary Zahid Abbasi had said early Monday eight of the 27 people who contacted the latest coronavirus patient had tested negative, while the remaining ones were yet to undergo tests.

Task force on coronavirus meets
Four others suspected of having contracted coronavirus also tested negative, Abbasi had said during a meeting with the provincial task force on coronavirus that was presided by Sindh Chief Minister Murad Ali Shah.

Shah had also directed government and private hospitals to share the record of all patients who had visited them with symptoms of pneumonia so that further medical investigations could be made to contain the coronavirus.

On the other hand, Additional Chief Home Secretary Usman Chachar had said the federal government was distributing health card and travel declarations — to record their travel history over the past 14 days — among passengers on international flights arriving in Karachi.

The task force was also informed during the meeting that 135 tests had been conducted in Sindh so far and that four of them tested positive while 112 were declared negative.
Read more: Eight of 27 people who contacted latest coronavirus patient test negative
Separately, 230 pilgrims have been kept in the quarantine at present. The isolation period of 63 of them would conclude on March 10, another 25 on March 11, and 34 on March 12.

The chief minister was told that 59 suspected patients — who had travelled with four coronavirus patients in Sindh — had been traced and the list been shared with all the deputy commissioners to contact and conduct their necessary medical investigations.
Iran and Afghanistan
Pakistan in this regard had extended the closure of its Chaman border with Afghanistan for another seven days amid the coronavirus outbreak in the neighbouring country after announcing closure till March 8.
"Three positive cases of coronavirus have been registered in western Herat province of Afghanistan," Wahidullah Mayar, spokesperson for the Ministry of Public Health had told Reuters, adding that of the 36 cases tested in Kabul, 33 had come back negative.

According to security officials, the Chaman border remained closed for an eighth day today, with all trade and migration suspended and over 15,000 people having undergone screening.

Also read: Pakistan extends border closure with Afghanistan for seven days

Most of the confirmed cases of coronavirus in Pakistan have a travel history to Iran.

Afghanistan's Herat borders neighbouring Iran, which is one of the countries worst affected by the coronavirus outside of China, with more than 4,000 cases and dozens of deaths.
However, trade activities at the border with Iran resumed on Saturday almost 14 days after Pakistan had closed its border last month. At least 190 people have died of coronavirus and over 6,500 infected, including senior government functionaries.
12 suspected coronavirus cases test negative
Last week in Sindh, the test results of 12 people — suspected of being infected with the coronavirus — had come out negative, according to the provincial health department.

A health department spokesperson had disclosed that of the two patients in Karachi, one's family had been cleared of the coronavirus while the other's was being kept in observation.
Also read: Coronavirus infections around the world pass 110,000
The Sindh government had on Sunday directed all public and private schools, colleges, universities, coaching centres, and other educational institutions to remain closed till March 13, while action was taken against those that refused the government's order.

Teams raided schools located in the metropolis' Landhi, Lyari, Korangi, Gulshan-e-Hadeed, and other areas of the city. The officials have also requested the secondary education board's chairperson to initiate action against the said institutions.
No need to panic
The Sindh government had earlier set up a task force to deal with the coronavirus after the number of cases reported in Pakistan jumped to four.
On Saturday, Dr Zafar Mirza, Pakistan's health minister, had said one of the two positive cases was reported in Sindh, while the other was in "federal areas".
Speaking about the two earlier cases of coronavirus in Pakistan, Dr Mirza had said there was no need to panic as both patients were getting better. "One of the patients will be discharged from the hospital quite soon," he had said.

Dr Mirza had disclosed that the infection had spread to Pakistan after cases were first reported in 47 countries. He said that the disease had affected people in the country last as the government had taken necessary precautions to constrain it.
—For more on coronavirus, click here