Pakistan is likely to reach the peak moment of its coronavirus outbreak by the end of June, independent scientists predict, as the country records its highest one-day deaths so far.
Generally speaking, the peak is a grim marker, which indicates the day on which the highest number of cases and deaths are recorded in a country.
"In the current scenario, the peak is expected from June 20 to end of the month," Zafar Yasin, a scientist told Geo.tv.
Yasin, who is affiliated with the European Organisation for Nuclear Research (CERN), in Switzerland, and his colleagues Sohaib Hassan and Bilal Javed Mughal made the prediction based on a mathematical model called the "Susceptible-Exposed-Infectious-Recovered (SEIR)".
The SEIR model is also being used by state officials at the ministry of national health services in Islamabad to forecast the development of the novel virus.
As per the findings of Yasin's team, Pakistan is predicted to record 210,000 to 226,000 coronavirus cases in total and 4,500 to 6,000 deaths by the end of August.
Furthermore, at its peak, it would be reporting close to 100 deaths per day.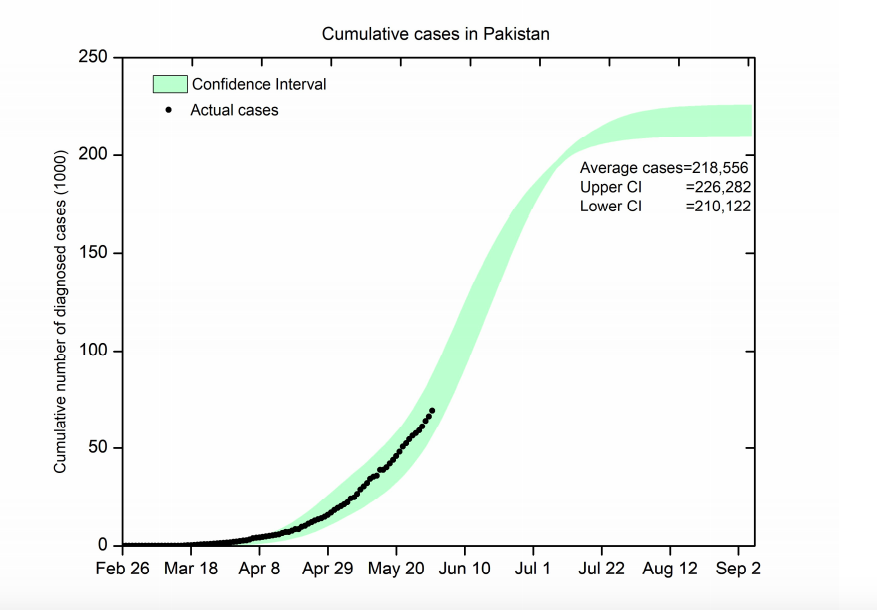 In a research paper, authored by the team titled "A modified SEIR meta-population transmission-based Modeling and Forecasting of the COVID-19 pandemic in Pakistan," the scientists write that a strict lockdown reduces stress on hospital beds, healthcare workers and testing capabilities.
A proper lockdown, its further adds, "buys time for a country to prepare its health necessities by shifting the peak to the future. Also, it reduces the cumulative number of infected and hence saves lives in the long run."
The scientists also note how the virus would respond in four different scenarios: no lockdown, partial lockdown and strict lockdown.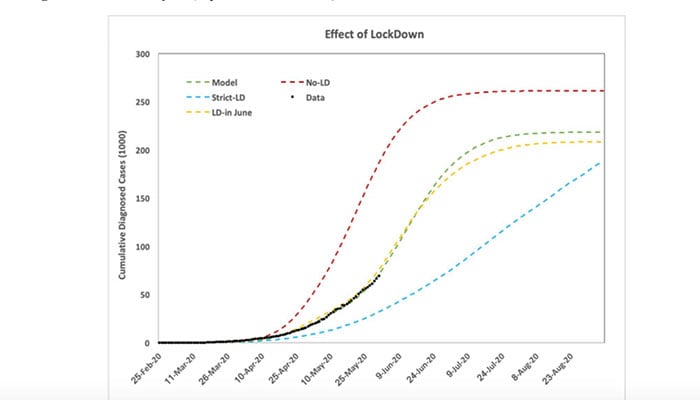 Simply put, a strict lockdown would delay the peak moment and allow hospitals to prepare.

If the government were to introduced a four-month lockdown in June, the paper explains, the number of daily cases could drop to 1,600 and delay the peak to July 20.
In case of a "no lockdown" strategy, 4250 – 5450 cases would be recorded every day.
But one shortcoming of the mathematical model is the data available and Pakistan's low testing capacity.
"The recent selection of parameters and epidemic prediction is based on the number of tests in Pakistan," the paper adds, "The country is doing less tests per million as compared to other countries."
On June 8, Pakistan recorded 105 deaths in a day, its highest single-day tally to date.