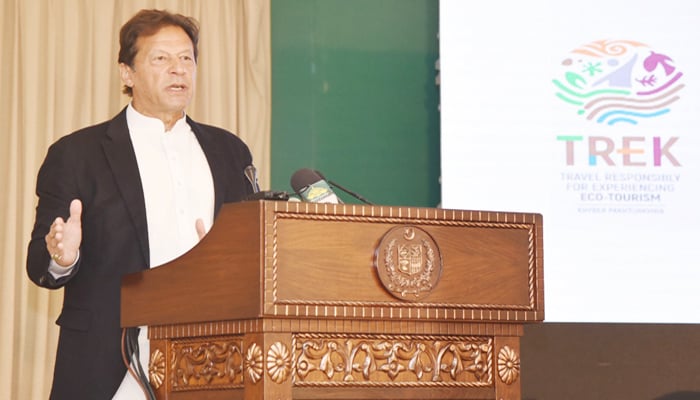 ---
Tourism is "exploding" in Pakistan right now: PM Imran Khan
Many touristic sites are turning into concrete jungles
Eco-friendly policies are necessary to protect Pakistan's touristic sites
Local people must be able to benefit from tourism in their areas
---
ISLAMABAD: Prime Minister Imran Khan on Friday said that Pakistan's tourism industry is seeing a boost for the first time in history, adding that it has become mandatory for the country to protect its sites through eco-friendly policies.
He was speaking at the launch ceremony of an eco-tourism agreement signed between the Khyber Pakhtunkhwa government, the World Bank, and Nestle Pakistan. 
Read more: Tourism on its knees: A glimpse at the future of travel in a post-pandemic era

During the ceremony, PM Imran Khan unveiled the logo of Travel Responsibly for Experiencing Ecotourism in Khyber Pakhtunkhwa (TREK).
Need for eco-tourism in Pakistan
PM Khan said that irregular tourism, unplanned development, and improper disposal of waste is destroying many of Pakistan's beautiful touristic sites, therefore, the need for bio laws and eco-friendly tourism has become more important than ever before.
Citing the example of Murree, Naran, and Nathia Gali, he said that many unplanned buildings have been erected in the resort towns which is negatively affecting tourism there.
"We have to safeguard these sites from turning into concrete jungles, otherwise, no one will come here," he said. If we make sure that our touristic sites are clean, they will attract more tourism."
He added that at present, tourism in Pakistan has "exploded," for the first time in history, calling for an urgent need to devise eco-friendly policies for the sector.
Tourism must benefit local people
Speaking on the occasion, the World Bank's Country Director for Pakistan Najy Benhassine said that the World Banks Group is "keen to continue supporting Khyber Pakhtunkhwa and Punjab in their efforts to provide employment opportunities to the youth in the tourism sector." 

Agreeing with Benhassine's comments, PM Imran Khan said that a country's tourism will not be successful or sustainable unless local people are able to benefit from it.
"If local people are made aware of protecting the sites [from environmental degradation] because tourism is linked to their livelihoods, they will employ efforts to protect those sites," PM Khan said. "In this way, we will not only preserve our touristic sites but will also generate employment."
Read more: Tourism thrives post lockdown as thousands flock to northern Pakistan
He also said that eco-tourism has evolved into a science and many countries, like the Maldives and Kenya, are employing the science of ecotourism to protect their sites so that more and more tourists visit their countries.

Untapped potential
PM Imran Khan also said that Pakistan's Northern areas also hold potential for skiing which is still untapped, adding that just like Switzerland earns about $80 billion through their skiing resorts per year, Pakistan can too make achieve great success if such resorts are established here. 
Read more: COVID-19: Tourists can enter Gilgit tomorrow after showing medical reports