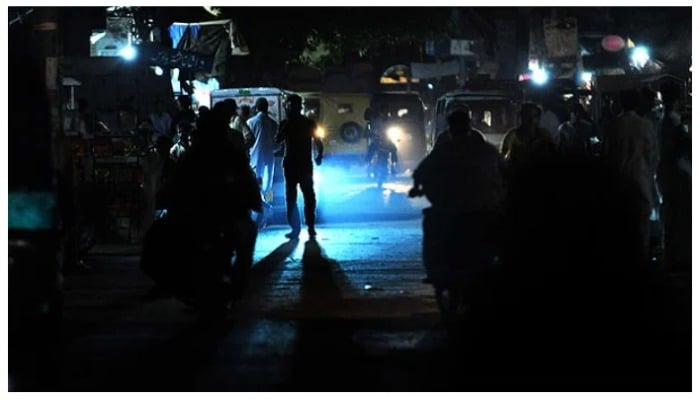 K-Electric announces new schedule for electricity load-shedding ahead of Eid ul Fitr.
Says different areas of Karachi will witness two more hours of load-shedding.
Cites reduced production capacity due to fuel shortage as reason for extending load-shedding.
---
KARACHI: K-Electric on Thursday shocked the citizens of Karachi by announcing a new schedule for electricity load-shedding ahead of Eid ul Fits in specific areas of the city already affected by extended periods of power outages.
The KE spokesperson said that according to the new schedule, different areas of the city will witness two hours of load-shedding, which is in addition to the routine power outages.
The spokesperson cited reduced production capacity due to fuel shortage as the reason for extending the hours of load-shedding. However, the KE expressed hope that the situation will improve on Eid ul Fitr.
The areas which will witness longer periods of power outages include Nazimabad, Federal B Area, Gulshan-e-Iqbal, Model Colony, Saadi Town and others 
Meanwhile, the electricity crisis in other parts of the country couldn't be resolved as four to five hours of unannounced load-shedding is being carried out in Lahore, while this duration reached 12 to 13 hours in rural areas.
Traders in Chunian, city of Punjab, recorded a protest against unannounced load-shedding. The protesters said that the power supply is suspended during Sehri and Iftar timings in the holy month of Ramadan. They demanded the government to take notice of the matter immediately.
Pakistan's power crisis continues to get worse
Pakistan is reeling under a worse energy crisis as the power shortfall reaches 7,468 MW, resulting in up to 10-18 hours of load-shedding nationwide, The News reported.
Currently, the total power generation stands at 18,031 MW, while the demand hovers around 25,500 MW. Shortage of fuel and technical reasons for shortfall in electricity generation are being called the main reasons for the shutdown of power plants.
As many as 3,674 MW of electricity is being produced from hydro-power, while government thermal power plants are generating only 786 MW. As much as 9,526 MW of electricity is being generated by the private power producers.
Sources say that wind power plants were generating 487 MW, solar power plants were generating 104MW, bio gas plants 141 MW and atomic power plants wer producing 3,312 MW of electricity currently.
Fixing PTI's faulty policies:PM Shehbaz Sharif
rime Minister Shehbaz Sharif on Monday said that the current issue of load-shedding in the country was due to the policies of the PTI government.
"The PTI government neither purchased fuel in time nor repaired power plants. Hence the current load-shedding," he said in a tweet.
PM Shehbaz Sharif recalled that previously, PML-N leader Mian Nawaz Sharif during his government had ended the worst load-shedding in five years.
He mentioned that expensive power generation by the PTI government through inefficient plants was costing the people Rs100 billion per month.
PM Shehbaz Sharif said his government was making efforts to fix the problem of load-shedding.
The prime minister has directed the department concerned to slash power outages by the next month.