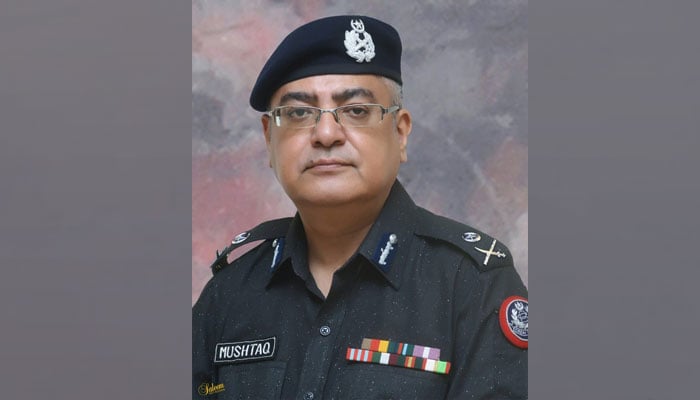 Decisions has been taken following a deterioration in the law and order situation.
Additional IG Dr Kamran Fazl to perform additional duties until next appointment is made.
Sources reveal Sindh govt was not happy with the performance and behaviour of Mahar.
---
KARACHI: The government has sacked Mushtaq Mahar from the post of Sindh inspector-general, an official notification issued by the Establishment Division confirmed, following a deterioration in the law and order situation.

A separate notification confirmed that the Sindh government has given additional charge of the Sindh IG post to Additional IG Dr Kamran Fazl — an officer of the Police Service of Pakistan (BS-21).
Several terrorist attacks have been witnessed in Karachi, the financial capital of the province, in the last month. There have been speculations that the Sindh government wanted to remove the Sindh IG because of the increase in terrorist activities.
Mahar was also not seen at the site of the blast that took place two days ago in Kharadar's Bolton Market and was also absent from the meeting held by Sindh Chief Minister Murad Ali Shah.
According to sources, the Sindh government was not happy with the performance and behaviour of Mahar and wanted to replace him even before the three major terrorist attacks witnessed in Karachi.
"Mushtaq Ahmed Mahar, a BS-22 officer of Police Service of Pakistan, previously serving as Provincial Police Officer (PPO), Government of Sindh, is transferred and directed to report to Establishment Division, with immediate effect and until further notice," the notification read.
Sources further added that Dr Kamran Fazl has been asked to perform duties as acting IG Sindh till his retirement on July 17 following which Mohsin Butt will probably be appointed as the new inspector-general of the province.
Timeline of three major Karachi blasts

April 26 — four people, including three Chinese nationals, were killed while four others sustained injuries in a suicide blast, carried out by a burqa-clad woman, on the premises of the University of Karachi.
May 13 — at least one person was killed and thirteen were left injured in a blast that rocked the Saddar area of Karachi last week.
May 16 — one woman was killed and nearly a dozen people — including three police officers were wounded as a blast ripped through Karachi's crowded Bolton Market in Kharadar. Officials said that a police vehicle was the target as three policemen sustained injuries when an improvised explosive device, planted in a motorcycle, was detonated near the mobile.