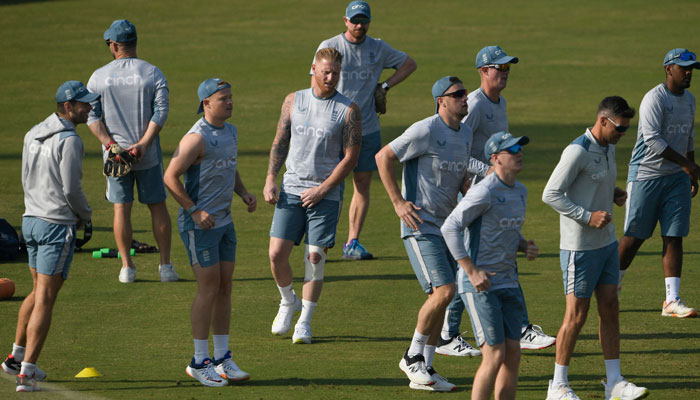 Meeting to decide starting match at 7:30am tomorrow.

Match to commence on Friday if players don't recover.

Virus affects 14 members of England squad,

BBC

reports.
---
Pakistan and England cricket boards Wednesday delayed the decision on holding the first fixture of the three-match Test series till tomorrow, a statement said.
The discussions regarding the delay in the start of the much-awaited Test series took place between Pakistan Cricket Board (PCB) and England and Wales Cricket Board (ECB) officials after a viral infection hit the England camp and infected several players and staff members.
In a statement, the cricket board said officials from the PCB and ECB discussed the situation and unanimously agreed to delay the decision on the commencement of the first Test, which is due to start on Thursday, until 7:30 am tomorrow.
The decision, PCB's statement said, was based on medical advice from the England doctors, which revolved around the players' health and welfare.
In case players from England camp do not recover by Thursday morning, both the boards agreed that then the Test will commence on Friday and will be a five-day match.
In this scenario, the PCB said, the schedule of the second Test in Multan and the third Test in Karachi will remain unaffected and will be played as per the original schedule — 9-13 and 17-21 December, respectively.
England are on their first Test tour of Pakistan in 17 years, following their T20 side playing seven matches in the country two months ago, taking the series 4-3.
Root sees recovery in next 24 hours
Former captain Joe Root told reporters that "a few guys were not feeling 100%," but did not provide details on individual players and possible changes to the starting XI.
"It's hard to say, I haven't seen anyone this morning," he said, adding: "I don't think it's food poisoning or COVID or anything like that, it's just one of those things that we have unfortunately picked up as a group.
"I felt unwell yesterday and woke up feeling much better today, so hopefully it's a 24-hour thing."
In a conversation with Geo News, Root said that he is hopeful that his teammates will recover in 24 hours.
"I think there's a virus going around the team. It's just one of those things sometimes. We don't think it's food related. It's just an unfortunate thing that can happen sometimes when you've got a group, they're tight together."
"I didn't feel great yesterday and feel much better today. So hopefully, it's just a 24-hour thing and the guys can turn [make a comeback] tomorrow and we can reap into what should be a great series," he said.
14 members affected: BBC
Earlier in the day, BBC reported that at least 14 members of the England squad have been affected by a virus ahead of the first Test against Pakistan.
According to BBC, the squad members who have been affected by the virus include around eight players.
"The England squad, including captain Ben Stokes, has been affected by a virus on the eve of the first Test against Pakistan in Rawalpindi," said the British media outlet.
"Around 14 members of the travelling party of players and coaches were advised to rest at the hotel on Wednesday. About half of the playing squad of 16 has been hit, with only five taking part in an optional training session."
ECB spokesman Danny Reuben later clarified that "13-14 of the squad members, including six to seven players are suffering from a virus which is not related to food poisoning or Covid related".
Root, Zak Crawley, Harry Brook, Ollie Pope and Keaton Jennings were the players at training on Wednesday, while head coach Brendon McCullum was also in attendance. All of the squad had trained on Tuesday.