LONDON: Unwanted by Europe's elite clubs, Cristiano Ronaldo's steep decline has been laid bare by a move to Saudi Arabian side Al Nassr that signals the end of his reign as one of football's most feared strikers.
Ronaldo will be officially unveiled by Al Nassr on Tuesday after agreeing to a contract that runs until 2025 and is reportedly worth more than 200 million euros.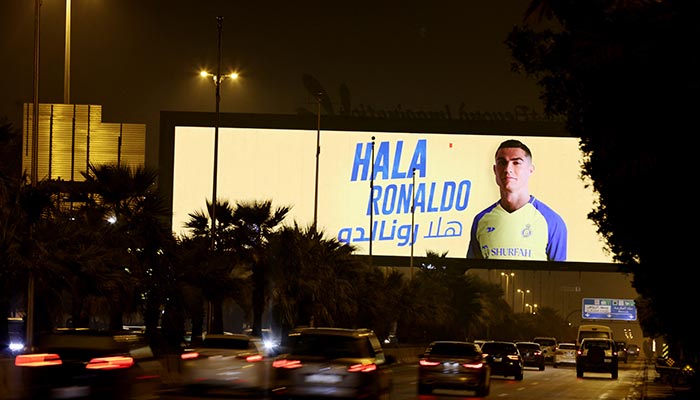 But the riches and fanfare that await the 37-year-old in Saudi Arabia are at odds with his reduced status as a fallen star trading on past heroics.
For Ronaldo to be forced to play out what will surely be the final chapter of his glittering career in the football backwater of Saudi Arabia is a damning indictment of his lacklustre form over the last 18 months.
Ronaldo, a five-time Ballon d'Or winner, heads to the Gulf after a painful year that saw him relegated to the Portugal bench and cut adrift by Manchester United.
His second spell with United imploded in November with his departure by mutual consent, shortly after he criticised boss Erik ten Hag and the club's hierarchy in an explosive television interview.
As his relationship with United soured, Ronaldo was linked to a string of Champions League contenders including Chelsea, Bayern Munich and Napoli.
A return to his first club Sporting Lisbon was also rumoured, while there was talk of a move to the MLS to join Inter Miami, part-owned by former United team mate David Beckham.
But none of those deals came to fruition and when United decided his diminishing contribution, coupled with his public displays of dissent, made him a pricey luxury they no longer needed, it was instructive to note the absence of a rush to sign the ageing icon.
Coming at the same time as his acrimonious United exit, Ronaldo's failed quest to finally win the World Cup underlined his descent to the ranks of football's mere mortals.
Tears in Qatar
In a move that would have been unthinkable just a few years ago, Ronaldo was left out of the starting line-up for Portugal's last 16 thrashing of Switzerland.
And when Portugal suffered a shock 1-0 defeat against Morocco in the quarter-finals, Ronaldo started on the bench, made little impact after his eventual introduction and was last seen trudging down the tunnel in tears after the final whistle.
There was a sting in the World Cup tale for Ronaldo as it was his old sparring partner Lionel Messi who got his hands on the trophy for the first time instead.
The sight of Messi lifting the World Cup after Argentina's final victory over France in Qatar will have pained Ronaldo given their long-standing rivalry.
Few would question Ronaldo's right to be regarded as one of the all-time greats after winning five Champions League crowns and a combined seven domestic league titles with United, Juventus and Real Madrid.
He is also the record goal-scorer in the Champions League and with the Portuguese national team, who won the 2016 European Championship — Ronaldo lasted less than half an hour before going off injured in the final against France.
But Messi's triumph with Argentina vaulted him into the ranks of football's immortals alongside Pele and Diego Maradona, a rarefied air that Ronaldo will never sample without a World Cup victory on his CV.
Ronaldo's decision to accept the lucrative deal offered in the Middle East rather than play on for a lesser European team made it clear he knows his diminished place in the football hierarchy.
Kylian Mbappe, Erling Haaland and Mohamed Salah are the new global stars stepping into Ronaldo's boots.
Al Nassr hailed Ronaldo's signing by claiming the "history making" deal would "inspire future generations" to be the best version of themselves.
But for the millions who have been captivated by Ronaldo over the last two decades, this version of the superstar is very far from his best.