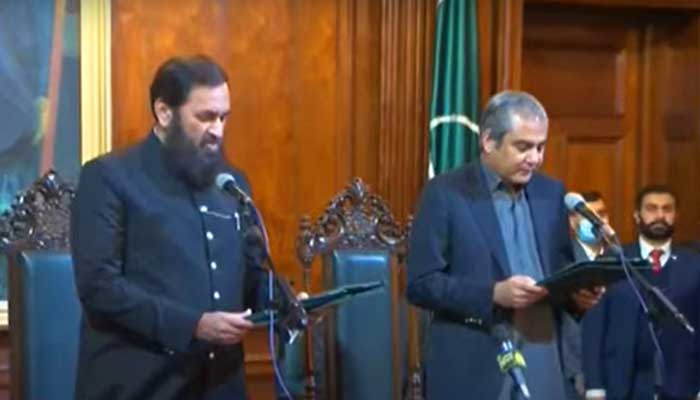 Naqvi is a journalist who founded his own news channel at age 30.
ECP appoints Naqvi after govt and opposition failed to finalise name.
PML-Q's Elahi to challenge ECP's decision in Supreme Court.
---
Amid controversies and disagreements among Punjab's political stakeholders, Syed Mohsin Raza Naqvi took oath as the interim chief minister at the Governor House in Lahore late Sunday night.

Punjab Governor Baligh Ur Rehman administered oath to interim chief minister Naqvi.

Earlier today, Naqvi — a nominee of the opposition — was appointed as the caretaker CM by the Election Commission of Pakistan (ECP). The ECP's decision was categorically rejected by the Pakistan Tehreek-e-Insaf (PTI), which declared "Naqvi" as a "controversial" personality.
The electoral authority's decision came after the government and the opposition failed to reach a consensus on finalising the name of a caretaker chief executive — the move appeared to kick off a new round of controversy in the country.
In a declaration, the ECP said that the meeting, chaired by Chief Election Commissioner Sikandar Sultan Raja, made the consensus decision to appoint Naqvi as the caretaker for Punjab CM.
PTI rejects ECP's "controversial" decision
Meanwhile, the PTI rejected Naqvi's appointment and its Senior Vice-President Fawad Chaudhry vowed to launch a massive campaign against "this system".
Reacting to the decision, Fawad said: "No other options left but taking to the streets against this system."
Elahi, on the other hand, expressed severe concerns over the ECP's "controversial" decision and announced to challenge it in the Supreme Court.
Reacting to the decision, the CM asked: "How can justice be expected from a person who made a plea bargain worth Rs3.5 million."
The outgoing chief executive also said that the "controversial decision" was against every rule and regulation.
Mohsin Naqvi — the media mogul
The Lahore-born Naqvi is a journalist by profession. He got his higher education in the USA and was associated with the American TV channel CNN during his stay in Miami. After returning to Pakistan, he served as the regional head of CNN.
According to a report, Benazir Bhutto, who Mohsin had interviewed before, last contacted him before her assassination.
Mohsin founded the local media City News Network in 2009 at the age of 30 and now owns six news channels and a newspaper. He is also widely known in political circles and has strong relations with leading political figures.