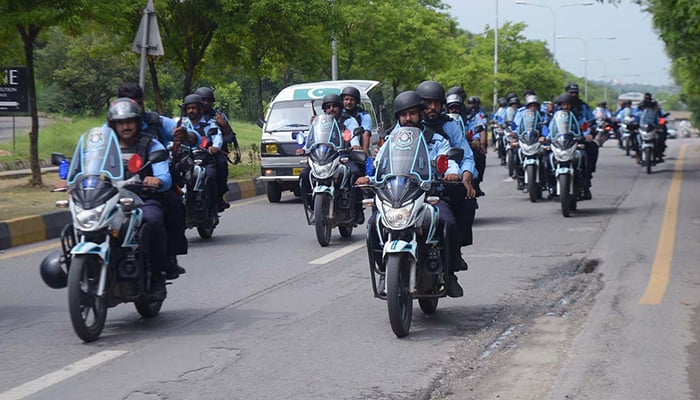 Islamabad police say Bani Gala Khan's private residence.

He's not been in Islamabad for past several months, police say.

Punjab also tells KP to remove police from Khan's Lahore residence.
---
ISLAMABAD: The Islamabad Police Friday withdrew security from Pakistan Tehreek-e-Insaf Chairman Imran Khan's mansion in Bani Gala, a residential area in the federal capital.
Meanwhile, the Punjab Home Department has also written a letter to the Khyber Pakhtunkhwa government to withdraw the province's police from the former prime minister's home in Lahore's Zaman Park.
"Bani Gala is the former prime minister's private residence. He has not been staying in Islamabad for the past several months," a spokesperson for the capital's police said sharing the reason for the security's withdrawal with Geo News.
In Khan's absence, the spokesperson said, police from Islamabad and other provinces cannot be deployed over there.
Sources informed that one Deputy Superintendent of Police and 170 police personnel were deployed at Khan's Islamabad home. The security personnel perform their duties in different shifts at Khan's Bani Gala residence.
Frontier Corps and KP Police personnel, as per the sources, were also withdrawn. As a result, 50 KP policemen have also left the Khan's Bani Gala house, the sources said.
The Punjab Home Department has also written to the Khyber Pakhtunkhwa government to withdraw KP Police from the former prime minister's home in Lahore's Zaman Park.
In the letter to the KP government, the department mentioned that the 50 security personnel — who were deployed in Lahore on November 10 last year — could be called back to guard Khan's residence if need be.
Powerful enemies

Earlier this week, the deposed prime minister — whose government was sent home following a vote of no confidence — expressed fears for his security.
"Right now I'm afraid, I have powerful enemies. The entire political status quo is against me," he said in an interview with Bloomberg.
Khan has blamed Prime Minister Shehbaz Shehbaz, Interior Minister Rana Sanaullah, and an officer from the country's intelligence for the attack on him in November last year, however, his claims have been categorically denied.
Khan was injured in an attempted assassination attack on him. Following the attack, the PTI chairman has repeatedly levelled allegations and openly spoken about potential threats to his life.
The PTI chief's party also shared fears of his arrest citing reports circulating about the possibility. Security officials already detained PTI's Senior Vice President Fawad Chaudhry on Wednesday.