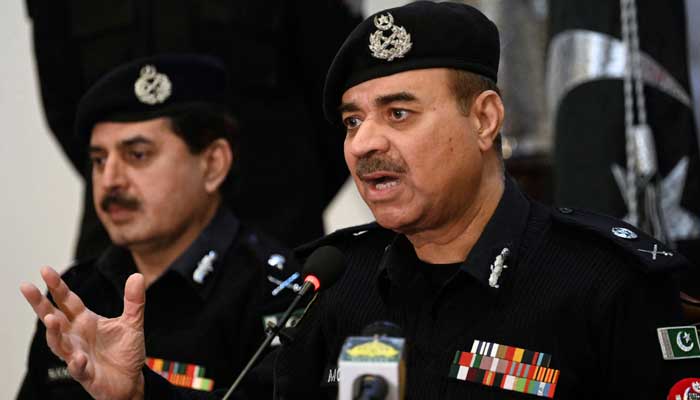 KP lacks 57,000 police personnel for polls' security, IG says.
Ansari says police attacked 46 times this year.
IG says help from army and FC will be required.
---
ISLAMABAD: Khyber Pakhtunkhwa Inspector-General of Police Moazzam Jah Ansari said Tuesday that the threat of terrorism cannot be ruled out during the upcoming election in the province.
The polls were triggered earlier than scheduled after the ex-KP chief minister, Mahmood Khan, dissolved the provincial assembly on directions of Pakistan Tehreek-e-Insaf (PTI) Chairman Imran Khan on January 18.
With terrorism on the rise across the country, particularly in KP, threats of attacks amid polls are being touted as a possibility by even law enforcers themselves.
Scores of policemen were martyred and several were injured as a suicide bomber attacked a mosque in Peshawar's Police Lines area. Being deemed one of the deadliest attacks in the country since the Lahore church bombing in 2015, the attack has shaken the nation.
"It cannot be presumed that the next elections will be completely peaceful," Ansari said in a meeting on KP polls presided over by Election Commission of Pakistan's (ECP) Chief Election Commissioner Sikandar Sultan Raja.
In the meeting — also attended by the ECP secretary, KP chief secretary, and ECP members — the IG further said that there is a shortfall of 57,000 police personnel for security during the polls.
The personnel shortfall cannot be met even after seeking the services of the Azad Kashmir and Gilgit Baltistan police, he said. Ansari added that Pakistan Army and Frontier Corps' help will be required.
The provincial police chief also shared statistics regarding the attacks on law enforcers in KP. "In 2022, 494 attacks were carried out on the police, while 119 policemen were martyred," he said and added that the law enforcers have been attacked 46 times in 2023, and as a result, 93 policemen have lost their lives.
Meanwhile, the CEC spoke about being in contact with the interior and defence ministries regarding the military and FC's deployment to ensure peaceful elections.
He directed the IG to further work on the deployment of army and FC personnel and inform the ECP about it soon to ensure timely contact with relevant institutions.
"The appointment of impartial officers is very important during elections. Transfers of officers posted to all administrative posts should be done immediately on the same basis," Raja said during the meeting.
The CEC said the electoral authority should be informed if there is a complaint against the district returning officer or returning officer appointed during the National Assembly's by-elections or if they are related to any party. This, he said, should be done in order to take necessary action against them.
The KP chief secretary assured abiding by the ECP's direction and said the appointment of impartial officers will be ensured across all districts before elections.
He also informed the meeting about seeking more budget for the polls from the federal government.