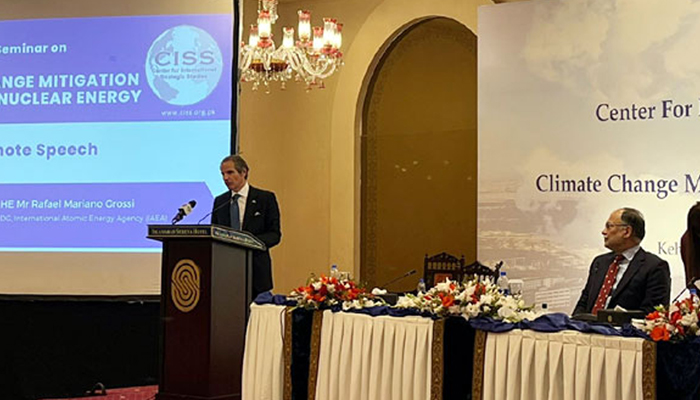 DG IAEA Grossi on two-day maiden visit to Pakistan.
Planning minister says nuclear safety "impeccable".
FO rubbishes deal over nuclear programme during visit.
---
International Atomic Energy Agency (IAEA) Director General Rafael Mariano Grossi has said that Pakistan's nuclear safety is "world-class" as he lauded the nation's technical and engineering capacity, reported state-broadcaster Radio Pakistan.
The IAEA chief is in Pakistan on a two-day trip to discuss matters related to the Pakistan-IAEA collaboration. This is Grossi's maiden visit to Pakistan after assuming office in 2019.
Addressing a seminar in Islamabad on Thursday, the IAEA DG said Pakistan's capacity to establish "new nuclear power plants indicates a promising future" for nuclear energy and achieving Sustainable Development Goals (SDGs).
According to the director-general, there is strong political support for new nuclear power plants in Pakistan. Lauding Pakistan's nuclear safety, Grossi termed safety measures at nuclear plants as "world-class".
During his stay, IAEA chief Grossi called on Prime Minister Shehbaz Sharif and Foreign Minister Bilawal Bhutto-Zardari, wherein cooperation between the agency and Pakistan in several areas — health, agriculture, industry, nuclear medicine and power generation — was discussed.
During the huddles, the top officials expressed full support for various projects and programmes of the agency and "conveyed our desire to expand cooperation and support for the IAEA's work".
Speaking at the Islamabad seminar, Planning Minister Ahsan Iqbal said Pakistan had a mutually beneficial relationship with the IAEA that includes all areas of nuclear technology.
"Nuclear power provides clean and cheap energy and currently contributes to 8% of Pakistan's energy mix with six operational nuclear power plants," he also said. 
Pakistan, he also said, has an impeccable nuclear safety and security record and plans to develop more power plants.
In her weekly press briefing earlier in the day, Foreign Office spokesperson Mumtaz Zahra Baloch rejected that the IAEA chief was not in the country for a "deal" over Pakistan's nuclear programme.
"I can categorically state here that this issue is not on the agenda of DG IAEA's visit and will not be discussed and there will be no agreement in the context you are referring to," the spokesperson said, responding to a reporter.