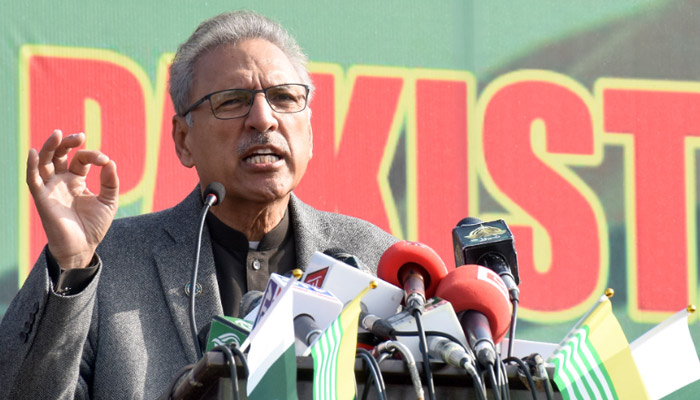 "Conscious of constitutional responsibility to preserve, protect and defend Constitution."
Meeting to consult on terms of Section 57(1) of the Elections Act, 2017.
President's letter on February 8 received no reply from polls authority.
---
ISLAMABAD: President Dr Arif Alvi on Friday summoned Chief Election Commissioner (CEC) Sikandar Sultan Raja for an urgent meeting on February 20 (Monday) regarding the announcement of the date for fresh general elections.
According to an official statement issued by the President's Office, the meeting will focus on the consultation on the terms of Section 57(1) of the Elections Act, 2017, which provides that the president shall "announce the date or dates of the general elections after consultation with the Election Commission of Pakistan (ECP)."
In his letter to the CEC, the president expressed his displeasure with the ECP's apparent "indifference" and inaction to the matter, adding that his letter dated February 8, had received no response.
Since his letter, the statement added, some substantial developments had taken place — including the judgement of the Lahore High Court (LHC) to ensure that polls in Punjab are held within 90 days and recent observations of the Supreme Court (SC) instructing that the LHC's orders be implemented.
The statement further added that the president had "waited anxiously" for the commission to realise its constitutional duties to proceed and act accordingly, but he was extremely dismayed by ECP's poignant approach to this crucial matter.
In his letter, the president once again reminded the ECP that he was "conscious of his constitutional responsibility of preserving, protecting and defending the Constitution," and was, thus, inviting CEC for an urgent meeting on 20th February 2023 in his office to consult on the date or dates of the general elections.
It must be noted that on February 8, President Alvi had written to the ECP, urging him to ensure that both provincial and national general elections are held within the constitutionally mandated time. 
"Recent history of the world shows that delays endanger democracy in the long run," the Presidential Office had said at the time.

It is pertinent to mention here that the Punjab and KP assemblies were dissolved by the Imran Khan-led Pakistan Tehreek-e-Insaf (PTI) on January 14 and January 18, respectively.