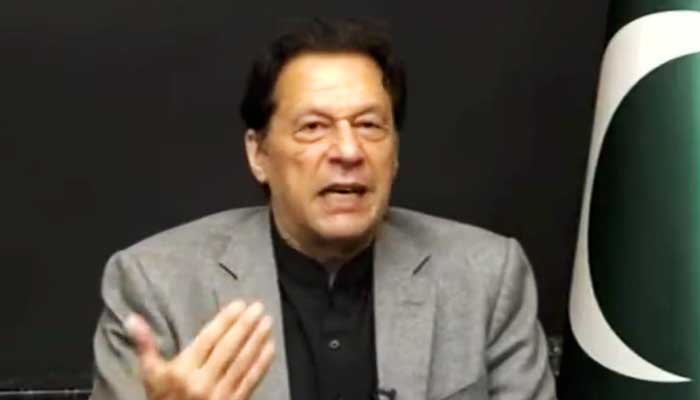 Supreme Court urged to take action against fake audio and videos.
PTI chief claims three of his party's leaders are being "blackmailed".
"Supreme Court of Pakistan must expose these blackmailers."
---
With audio leaks making a comeback in the country's political sphere, Pakistan Tehreek-e-Insaf (PTI) Chairman Imran Khan Sunday appealed to the Supreme Court to hear his petition seeking a probe into his own audio leaks.

"I request the Supreme Court to also hear my plea," he said while addressing the nation via a video link from his Zaman Park residence in Lahore.
Asking the judiciary to take action against the numerous audio leaks related to him, his wife Bushra Bibi, as well as his party's leaders and allies, Khan said: "Our fundamental rights were violated. If the prime minister speaks through a secure line and it gets leaked, then it is a violation of the Official Secrets Act. Our judiciary must take action against it."
Following his multiple alleged audio leaks released on the internet last year, the deposed prime minister — whose government was sent home after a no-confidence motion — approached the apex court to form a joint investigation team (JIT) or a judicial commission to investigate the PM House audio leaks while he was still in office.
The country's top court, however, returned his petition and raised objections against it stating that the application does not clarify how Article 184(3) applies to the audio leaks case.
"Declare that the impugned actions, in particular, the illegal surveillance of the PMO and PMH and the release of the surveillance data, especially through the Audio Leaks, are unconstitutional and in violation of law," the PTI chief had prayed before the court.
Khan, in his address today, said that his discussion with his principal secretary Azam Khan, during his term as the prime minister, was taped via official line. "I was speaking to my principal secretary when I was the prime minister. It [the call] was tempered and leaked. When someone has to be blackmailed, their tapes are leaked."

The former premier also spoke about his wife's phone call being doctored and leaked. Imran Khan — while referring to Pakistan Muslim League-Nawaz (PML-N) Senior Vice-President Maryam Nawaz — said that she spoke about "possessing" audio and video tapes in a press conference, while former army chief General (retd) Qamar Javed Bajwa has "also said that he has tapes".
"With technology, anyone can make fake video and audio. The fake videos have been made. Three of our party's senior leaders are being blackmailed."
During his address today, Khan was flanked by his party leader in Punjab Dr Yasmin Rashid — whose recent alleged audio leak with Lahore Capital City Police Officer (CCPO) Ghulam Mahmood Dogar also surfaced a day earlier.
The purported audio leak between the two came a day after the cop's reinstatement by the Supreme Court to the Lahore CCPO's post with the suspension of his transfer orders issued by the Punjab caretaker setup.

Khan said Dr Rashid would be approaching the court against the audio leaks.
Meanwhile, in another instance, an alleged audio of former Punjab chief minister Chaudhry Parvez Elahi — a close aide of Khan — also surfaced in which he could be heard allegedly talking about managing courts. 
"Now they are trying to blackmail the judiciary. [Interior Minister] Rana Sanaullah released the audio to pressurise the court," the former prime minister also said claiming that the Pakistan Democratic Movement led-government is doing so to have Dogar removed from his post.
"The Supreme Court must expose these blackmailers," Khan demanded.