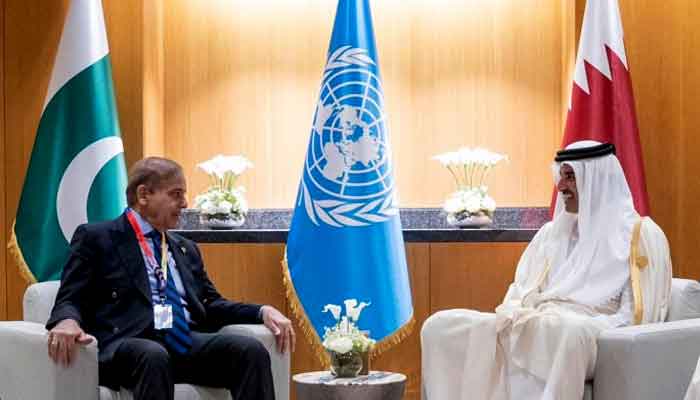 PM Shehbaz meets Qatari leader in Doha.
Shehbaz in Qatar to attend UN conference.
QIA chief reviews progress on various investment proposals.
---
DOHA: Amir of Qatar Sheikh Tamim bin Hamad Al Thani on Sunday discussed a wide array of mutually beneficial issues with Prime Minister Shehbaz Sharif and reiterated his resolve to continue Qatar's complete cooperation and support in the development and progress agenda of Pakistan.
The Pakistani premier is in Doha on a two-day official visit where he would participate in the 5th United Nations conference on the Least Developed Countries (LDCs).
The conference, being held from 5-9 March 2023, will consider steps for accelerating sustainable development in the Least Developed Countries, helping them make progress on the road to prosperity.
According to a PMO statement, PM Shehbaz exchanged views with the Qatari leader to further strengthen the excellent cooperation between the two countries in diverse fields including in the economic and investment sectors.
Welcoming the prime minister, the Qatari amir reiterated his keen interest in strengthening the economic cooperation between Qatar and Pakistan.
He also reiterated his resolve to continue Qatar's complete cooperation and support in the development and progress agenda of Pakistan.
Islamabad is facing a serious economic crisis and is looking for financial help from friendly countries to unlock the International Monetary Fund (IMF) deal. 
The lender has been negotiating the deal with Pakistan since early last month to clear its ninth review, which if approved by its board will issue over $1 billion tranche of $6.5 billion bailout agreed in 2019.
During the meeting in Doha on Sunday, the prime minister appreciated Qatar's consistent support to the development projects in Pakistan and highlighted the vast opportunities for cooperation between the two countries.

Hamad Al Thani lauded the contributions of Pakistani manpower in his country's development and especially referred to the excellent performance of Pakistani security authorities during the FIFA Football World Cup 2022 successfully hosted by Qatar, the PM Office Media Wing said.
They also discussed further cementing of bilateral cooperation, investment, trade and sending of further Pakistani skilled workers to Qatar.
The amir of Qatar also accepted an invitation of the prime minister to visit Pakistan.
CEO Qatar Investment Authority calls on PM
Later in the day, Chief Executive Officer Qatar Investment Authority Mansoor Ebrahim Al-Mahmoud also called on PM Shehbaz Sharif and exchanged views on progress made on various investment proposals in multiple sectors of Pakistan's economy.
During the meeting, Mansoor Ebrahim Al-Mahmoud and PM Sharif highlighted investment opportunities in the energy and infrastructure sectors of Pakistan.
It may be recalled that a detailed discussion was initiated between the two sides during the prime minister's visit to Qatar in August last year.
The QIA had announced its aspiration to invest $3 billion in various commercial and investment sectors in Pakistan.

It has expressed a keen interest in investing in LNG power plants, airports, and solar power parks in Pakistan.