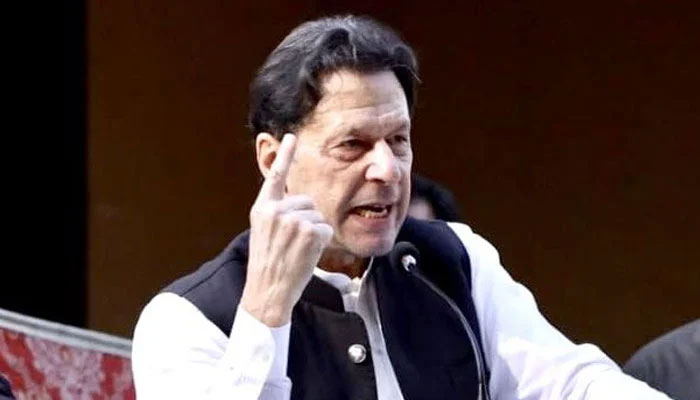 The ban is "violation of basic human rights", says petitioner.
"Media watchdog violated PEMRA Ordinance 2002."
Plea seeks annulment of ban on broadcast of Khan's speeches.
---
Pakistan Tehreek-e-Insaf (PTI) Chairman Imran Khan on Monday filed a petition in the Lahore High Court, seeking annulment of a ban on the broadcast of his speeches and press talks by the Pakistan Electronic Media Regulatory Authority (PEMRA).
A day earlier, the media watchdog, in view of his "provocative statements against the state institutions and their officers", imposed the ban on broadcasting live and recorded speeches of the deposed prime minister on all satellite TV channels with immediate effect.        
The ban was imposed hours after the ousted premier — removed from power via a no-confidence move in April last year — delivered a hard-hitting speech outside his Zaman Park residence in Lahore following a police team's arrival there to arrest him in the Toshakhana case.
The petitioner accused the regulatory authority of exceeding its constitutional powers by banning the speeches of the PTI chief on TV channels.

"PEMRA's orders are illegal, unconstitutional and a violation of Article 19 of the Constitution," read the plea.
The media regulatory authority issued the order by violating PEMRA Ordinance 2002, it added.
Terming the ban a "violation of basic human rights", the petitioner pleaded with the court to declare the PEMRA's order null and void.
Registrar office raises objection
Meanwhile, the Lahore High Court's registrar office raised objection to the petition, saying the petitioner did not enclose an attested copy of the PEMRA ban.
LHC's Justice Shahid Bilal Hassan will hear arguments on the objection raised by the registrar office to Imran Khan's application on Tuesday (tomorrow).
It is pertinent to mention here that Khan came under the PEMRA's restriction for the third time on Sunday. 
Last year in August, the regulatory authority imposed such restriction on Khan speeches but the ban was lifted on the orders of the Islamabad High Court (IHC) on September 6.
In November last year, the PTI leader's speeches were again banned but the restrictions were withdrawn by the federal government on the same day.