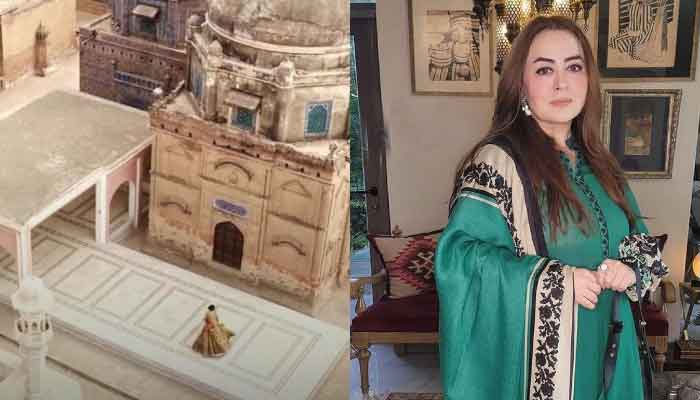 Renowned fashion designer Maria B on Friday issued an apology after she came under fire for filming a video of a photoshoot in a graveyard. 

A member of the Abbasi family, who were the rulers of Bahawalpur, called out the fashion designer for shooting without approval in their ancestral graveyard. 
Chang Khan, who posted the screenshots taken from the video of the shoot, alleged that the model in the video was dancing on his grandfather's grave. 
Soon after the pictures went viral, netizens slammed the designer and called her out on the outrageous act. 
Following the social media backlash, Maria B apologised and deleted the video of the shoot from her official Instagram account. 
"The recent shoot for our brand was planned and executed by a production house with the concept of showing our magnificent cultural heritage in Bahawalpur," wrote the designer. 
"The shoot was edited and published without any prior knowledge about the significance and sanctity of the site. We are grateful to the people who have pointed out this mistake and we have taken immediate action by removing all the relevant content," she added. 
"Our heartfelt apologies to all those who were understandably distressed by this unfortunate incident," said Maria B. 

However, her apology wasn't enough for social media users and they continued to bash her for the photoshoot. 
"This seems illogical. You and your team didn't realize that shooting in a cemetery would be problematic," wrote a user. 

"And this is why the history of art and architecture, and culture and heritage should be important subjects at the school level. Start them young, so as adults they don't make such errors," wrote another. 

"How non-professional behaviour is this that you are going to shoot on a site about which you don't have any knowledge? Secondly seems you are pointing out your production house team for this unfortunate incident but you are equally responsible for this because as lead you must have to have a nitty gritty knowledge of the relevant site. Because as an audience we can't expect such non-sense behaviour from such a popular and expanded brand. But the good thing to appreciate is you accept it rather than defending. Next time be vigilant," said one of the users. 

Many also came to her support and appreciated her for apologising for the mistake.