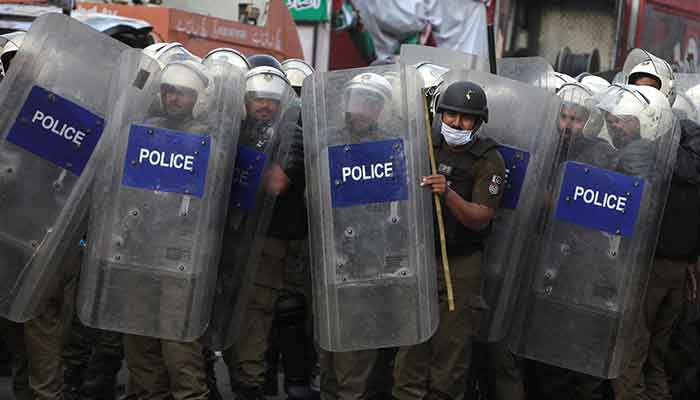 LAHORE: The Punjab Police personnel came face to face with the Gilgit-Baltistan Police on Tuesday during an operation to arrest Pakistan Tehreek-e-Insaf (PTI) Chairman Imran Khan. 
A heavy contingent of police surrounded the former prime minister's Zaman Park residence in Lahore on Tuesday to arrest him in the Toshakana case — the only case in which his arrest warrants are not suspended.
Amid scuffles between the PTI workers and law enforcement agencies, a police party had managed to reach the gate of Khan's residence where they were confronted by armed GB police — who were deployed to provide security to the former prime minister.
The Punjab Police had to abandon the plan and leave the PTI chief's house after the GB police pointed guns at them. 
Police withdraw from around Imran Khan's home
On Wednesday, security forces withdrew from around Imran Khan's home, putting a halt to clashes that had erupted after police tried to arrest the former prime minister for not showing up in a case against him related to selling state gifts.
Police and other security personnel were seen leaving the Lahore neighbourhood were Khan's home is located. Earlier, security forces had fired tear gas and water cannons at hundreds of Khan's supporters who had cordoned off his home in an effort to prevent his arrest.
According to sources, the security forces retreated due to a Pakistan Super League match scheduled today at 7pm. After they withdrew, Khan was seen standing outside his home, wearing a gas mask and talking to supporters.