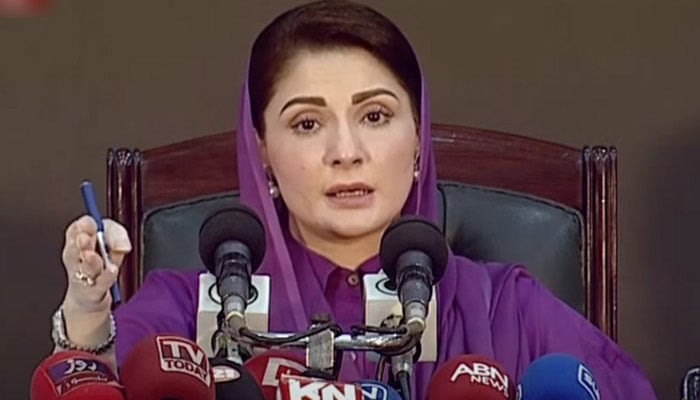 Maryam slams Khan for creating a "scene" at his Zaman Park residence.
Accuses PTI chief of attacking state with help of banned organisations.
Also berates Justice (retd) Khosa for giving "shameful titles" to Nawaz.
---
Pakistan Muslim League-Nawaz (PML-N) Senior Vice President Maryam Nawaz said Friday that the government should deal with the Imran Khan-led Pakistan Tehreek-e-Insaf (PTI) as a terrorist organisation — and the time had passed to sit and negotiate with the deposed prime minister.
In a hard-hitting press conference in Lahore, the PML-N leader lashed out at the former premier for creating a "scene" at his Zaman Park residence, saying Khan announced a "revolt against the state institutions".

On Tuesday, PTI workers and police clashed for nearly 24 hours as Zaman Park virtually became a battleground, with the law enforcers trying to get through supporters and arrest Khan, who was voted out as the prime minister in the National Assembly last April.

Scores of people — including police personnel and PTI workers — were injured in the process as the law enforcers fired teargas and party supporters resorted to throwing Molotov cocktails.

Referring to the clashes outside Khan's residence, the PML-N's chief organiser said that scenes at Zaman Park and the Kacha area are similar — the Kacha area is infamous for being a haven for notorious criminals, including high-profile kidnappers.
Maryam also accused Khan of attacking the state in collaboration with the banned organisations. She further said that he was "launched" into the government at the behest of "external forces".
Turning her guns towards the judiciary and the establishment, the scion of the Sharif family's political dynasty said that Justice (retd) Asif Saeed Khosa gave shameful titles to PML-N supremo Nawaz Sharif.
Khosa, the former Chief Justice of Pakistan (CJP), had reportedly used terms of "Sicilian Mafia" and "The Godfather" while hearing the Panama Papers case involving the three-time prime minister and others.
Strongly reacting to former US envoy to Afghanistan and Pakistan Zalmay Khalilzad's remarks about Khan's possible arrest, Maryam asked: "Who gave Zalmay Khalilzad the right to interfere in the internal affairs of Pakistan?"
In a series of tweets on Tuesday, Khalilzad said that arresting Imran Khan would only deepen the crisis in Pakistan. He offered Islamabad advice on how to deal with the political, economic and security crises being faced by the country.
The PML-N leader also asked, "Why was Zalmay Khalilzad kept silence when journalists were subjected to torture during Imran's tenure?"
Responding to a question, she said that Khan was telling a lie about bail on the international media.