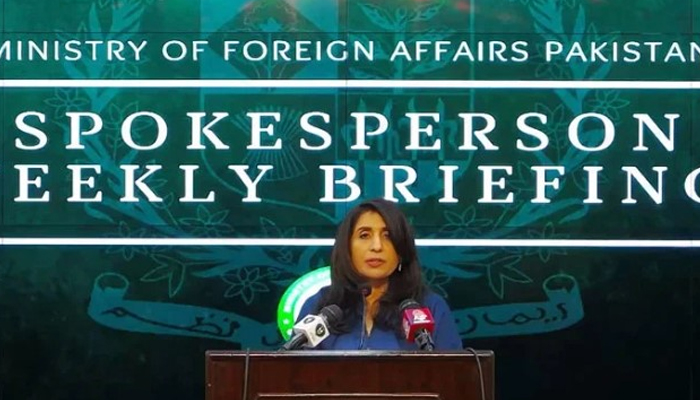 Pakistan played its part in facilitating dialogue, says FO.
'Agreement was result of China's meditation,' says spokesperson.
FO says breakthrough will contribute to peace, stability in region.
---
ISLAMABAD: As the widely welcomed rapprochement between two regional countries — Saudi Arabia and Iran — became public, Pakistan has also come forward to take credit for this major development saying it had also facilitated the trilateral dialogue.

Speaking at a weekly briefing on Friday, Foreign Office Spokesperson Mumtaz Zahra Baloch said, "Pakistan, like several other countries and friends of both Iran and Saudi Arabia, had played its part in facilitating dialogue. In this context, I would also like to recall that the first meeting of the two foreign ministers took place in Islamabad on the sidelines of the OIC meeting."
Welcoming the development, she stated: "It was obvious that this agreement was a result of China's meditation efforts and the constructive talks that it had facilitated, and the two sides were able to resolve their differences."
She added, "Pakistan does not wish to take away credit from China in this latest agreement between Iran and Saudi Arabia on normalisation of relations and congratulates them on their successful diplomatic efforts".
Pakistan had earlier welcomed the normalisation of diplomatic relations between the two countries and commended China's visionary leadership in coordinating this historic agreement.
"We believe that this diplomatic breakthrough will contribute to peace and stability in the region and beyond. We hope this normalisation will define a template for regional cooperation and harmony," said the FO.
In response to reports that China has demanded overdue payments from Pakistan on the Chinese independent power plants installed under the China-Pakistan Economic Corridor (CPEC), the spokesperson said that these claims that have been made in the media have taken an inter-governmental conversation completely out of context by adding sensationalist jargon to it.
"Pakistan and China are all-weather strategic cooperative partners. China is a consistent, generous, and steadfast friend of Pakistan that has stood by Pakistan for the last several decades. China had come and invested in Pakistan's power sector under CPEC when no foreign investor was ready to invest in Pakistan. This investment had resulted in economic development for the country and helped us overcome shortages and breakouts," she explained.
"We are grateful to our Chinese friends for their consistent commitment to Pakistan, to CPEC, and for investments in Pakistan."
Pakistan and China, she added, will continue to consult closely on all matters and find optimal win-win outcomes.
The spokesperson also refrained from commenting on Finance Minister Ishaq Dar's remarks who had said that Pakistan would never compromise on its nuclear strike capability for the revival of the stalled International Monetary Fund (IMF) package.
"First of all, I would not like to comment on a debate that is taking place in the Parliament. Secondly, I have said earlier and I would like to reiterate that the issues that you have mentioned about Pakistan's nuclear programme are not on the agenda with any government, any financial institution, or any international organisation. This debate is just speculative, and I would not like to add to the speculation," she responded.
She said that reports that are seen in the media may not always be an accurate reflection of the discussions that may be taking place.