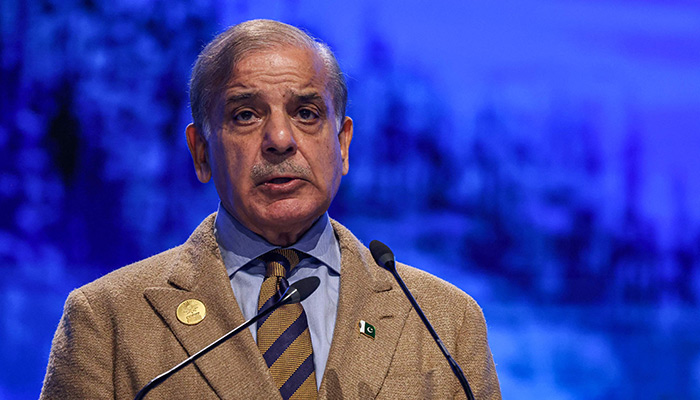 Khan's antics have laid bare his militant tendencies, PM says.
PM says Khan used people as human shields to evade arrest.
PTI workers clashed with police in Lahore, resulting in casualties.
---
Prime Minister Shehbaz Sharif said Saturday likened Pakistan Tehreek-e-Insaf (PTI) Chairman Imran Khan to the extremist Indian organisation Rashtriya Swayamsevak Sangh (RSS) as police and his party workers clash in Lahore.
Scores of police personnel and PTI supporters were injured in clashes as the law enforcers have been engaged in intermittent operations at Zaman Park since March 14.
An operation is underway at Zaman Park and the police have arrested more than 35 PTI workers who were, according to the authorities, involved in illegal acts.
Khan remained holed up at his Lahore residence for several days till the police operation was underway as he resisted arrest in the Toshakhana case — after an Islamabad court issued non-bailable arrest warrants for him due to his repeated non-appearances.
To ensure that they stop police from arresting Khan, the PTI workers had also thrown Molotov cocktails at police and Rangers personnel, while they also burnt police vehicles.
"If anyone had any doubt, Imran Niazi's antics of the last few days have laid bare his fascist & militant tendencies," the prime minister said in a tweet.
"From using people as human shields to throwing petrol bombs at police to leading 'jathas' to intimidate judiciary, he has taken a leaf out of the RSS book," he added.
The prime minister's statement came a day after Pakistan Muslim League-Nawaz (PML-N) Senior Vice President Maryam Nawaz said that the government should deal with the Imran Khan-led PTI as a terrorist organisation — and the time had passed to sit and negotiate with the deposed prime minister.
In a hard-hitting press conference in Lahore, the PML-N leader lashed out at the former premier for creating a "scene" at his Zaman Park residence, saying Khan announced a "revolt against the state institutions".
Referring to the clashes outside Khan's residence, the PML-N's chief organiser said that scenes at Zaman Park and the Kacha area are similar — the Kacha area is infamous for being a haven for notorious criminals, including high-profile kidnappers.