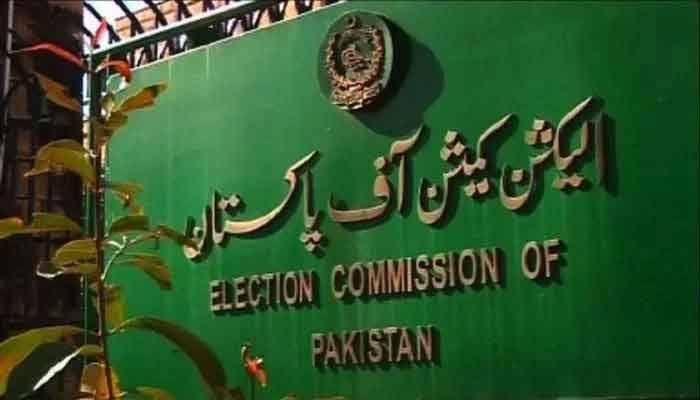 Three-member bench resumed hearing today after months. 
ECP also rejects PTI's objections against show-cause notice. 
Hearing adjourned till March 28. 
---
ISLAMABAD: The Election Commission of Pakistan (ECP) on Wednesday rejected the Pakistan Tehreek-e-Insaf's (PTI) application demanding the cross-examination of key witnesses and decided to proceed with the show-cause notice in the foreign funding case. 
A three-member bench, headed by Chief Election Commissioner Sikandar Sultan Raja, resumed the hearing today and announced the verdict it reserved on December 20.

The ECP passed the judgement on August 2, 2022, documenting financial fraud and over $7 million of illegal funding, and issued a show cause to the PTI in August 2022 to justify why further legal action should not be taken against it for gross financial irregularities.
However, instead of responding to the show cause, the PTI had filed a fresh application seeking cross-examination of key witnesses.
The electoral body rejected the PTI's request seeking a cross-examination of the scrutiny committee and the bank officers. Moreover, the objections raised by the party against CEC Raja's show-cause notice were also dismissed. 
Today's hearing
During the hearing, the chief election commissioner questioned the progress of the case in the Islamabad High Court (IHC). 

"What was the IHC's decision?" he asked. 
At this, PTI lawyer Nadeem Amjad replied that the IHC had directed the ECP to hear the parties. 
CEC Raja remarked that the Election Commission hasn't been stopped from taking action. "Now let's take this case forward," he added. 
He said that the PTI sought six weeks' time for the arguments and action was taken on August 23, adding that over six months have passed now. 
The CEC said time was sought to obtain records from abroad. 
The PTI's counsel filed a petition to postpone the hearing of the case for two weeks.
To which, the chief election commissioner replied that two weeks' time cannot be given now. 
The Election Commission adjourned the hearing till March 28. 
The case
In a unanimous ruling, the election commission's three-member bench said on August 2, 2022, it found that the PTI received prohibited funding.
The case was earlier referred to as the "foreign funding" case, but later the election commission accepted the PTI's plea to refer to it as the "prohibited funding" case.
As per the 68-page order, the commission stated that the Imran Khan-led PTI did indeed receive funding from foreign companies and individuals, which it hid.
The ECP verdict stated that the PTI received funds from 34 individuals and 351 businesses, including companies.
Thirteen unknown accounts have also come to light, said the commission in the verdict, adding that hiding accounts are a "violation" of Article 17 of the Constitution.
Moreover, the ECP found that the PTI chairperson submitted a false Nomination Form I and that the affidavit provided regarding party accounts was false.