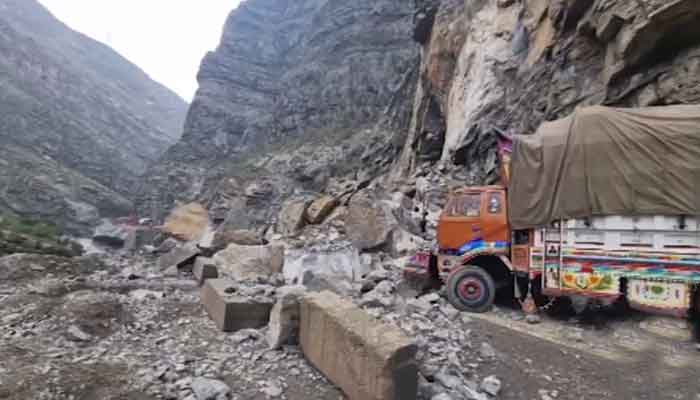 No loss of life reported in incident. 
Seven injured moved to nearby hospital. 
First priority is to evacuate strandees: NHA's general manager.
---
A landslide at N-50 National Highway suspended the traffic between Balochistan and Khyber Pakhtunkhwa (KP) completely, however, no loss of life was reported. 

The National Highway Authority (NHA) said that a large part of the KP and Balochistan border has caved in due to the landslide. 
According to Levies, seven people were injured in the incident at Balochistan's Dhana Sar and have been moved to a nearby hospital. Moreover, the incident also damaged four vehicles.
According to the NHA's General Manager Agha Inayatullah, the first priority is to evacuate those who are stranded at the site while a rescue operation is underway to remove the debris with help of heavy machinery.

Speaking to Geo News, Inayatullah said that the commissioner and deputy commissioners of Zhob and Kila Saifullah have been requested to stop the traffic. Transporters are directed to use N-70 Loralai DG Khan Highway to travel to KP.
Inayatullah further said it may take 30 hours to restore the highway as around 200 vehicles are stuck. "A whole mountain fell on the road and there are large rocks," he added.
He also said that more machinery is being brought from Quetta to Dhana Sar for the clearance of the road.
The rescue operation at the site is facing difficulties due to continuous traffic, said the NHA, adding that they have sought assistance from the Zhob and Loralai's civil administration to stop traffic.
Meanwhile, the rescue officials said that the stormy weather is intensifying at the fault site in the Sulaiman Mountains.

They added that the KP administration's non-cooperation in assisting the passengers is raising alarms.