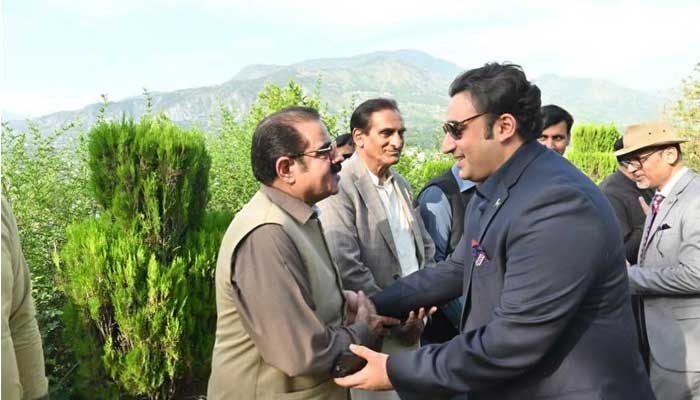 Bilawal in AJK to highlight Kashmir cause ahead of IIOJK G20 summit.
India's G20 tourism summit in IIOJK is a violation of int'l law: FM.
"I have come here to express solidarity with Kashmiri brothers and sisters."
---
Foreign Minister Bilawal Bhutto-Zardari on Sunday arrived in Muzaffarabad, the capital of Azad Jammu and Kashmir, to express solidarity with Kashmiris against India's move to hold a G20 meeting in Indian Illegally Occupied Jammu and Kashmir (IIOJK) in violation of the international laws.
Bilawal, who is also the chairman of Pakistan Peoples Party (PPP), was received at the helipad by PPP AJK chapter President Chaudhry Muhammad Yasin, Leader of Opposition Legislative Assembly Chaudhry Latif Akbar, PPP AJK Secretary General Faisal Mumtaz Rathore, Members of Assembly Mian Abdul Waheed, Syed Bazal Ali Naqvi, Sardar Javed Ayub. Nabila Ayub, and the AJK chief secretary Dr Muhammad Usman.
Speaking to the media at the helipad, Bilawal said that India's G20 tourism summit in IIOJK is a violation of international law.

"India cannot suppress the voice of Kashmiris through a conference. By violating the UN resolutions, it is not possible for India to play an effective role in the world," he remarked.
The foreign minister said that he has been invited to address the assembly of AJK at a time when India is holding the G20 meeting in the disputed territory.
Those who think that they can suppress the voice of Kashmiris by holding a conference will be proved wrong, he said adding that Pakistan is exposing the true face of India to the world. "I have come here to express solidarity with Kashmiri brothers and sisters."
He said that solidarity will be expressed with Kashmiris on May 22 (Monday).
The G20 tourism summit will be held in the Himalayan valley from May 22-24 — the first global event there since August 5, 2019 when Prime Minister Narendra Modi-led right wing government abrogated the semi-autonomous status of the country's only Muslim majority region.
FM Bilawal has arrived in Muzaffarabad on a three-day visit.
He will address the special session of the Azad Jammu and Kashmir Legislative Assembly on Monday and will also give a media briefing. He will also meet the refugees of IIOJK and will address a protest rally at Bagh on Tuesday.
IIOJK refugees' delegation calls on Bilawal
A delegation of refugees from IIOJK called on FM Bilawal in Muzaffarabad and apprised him of its reservations regarding G20 conference being held by India in Srinagar.
The delegation also appreciated the role of the PPP chairman with regard to the movement for the independence of Kashmir. The delegation also informed the foreign minister of the brutalities by Indian forces against the refugees coming to Azad Kashmir from IIOJK in 1990. The delegation and the foreign minister also discussed the issues of resettlement of the refugees.
Mushtaq Salam, Uzair Ahmed Ghazali, Chaudhry Muhammad Mushtaq, Iqbal Yasin Awan, Ali Muhammad Butt and Chaudhry Firoz Din were included in the delegation.