Social media users have schooled Pakistan Tehreek-e-Insaf (PTI) Chairman Imran Khan for spreading misinformation after he tweeted an old video of a burning truck citing it belonged to his party's lawmaker, Malik Shahzad Awan, from Karachi.
Both Khan and his party's social media team, took to Twitter to share videos of burning trucks claiming that they belonged to the lawmaker. They also alleged that Awan was being pressured to quit the party and following his refusal to do so, his vehicles were burned.
However, the claims were soon refuted by social media users who called out the PTI chief for propagating lies and misinforming his followers.
They verified that the videos were, in fact, of trucks which were burned during a fire incident in Nowshera's oil depot a year ago.
The cricketer-turned-politician and PTI eventually had to delete the tweets, which they earlier posted in haste without verifying the origins of the video.
In the now-deleted tweets, Khan wrote: "Our MPA from Sindh (Karachi) Malik Shahzad Awan was pressured to leave PTI. When refused, his fleet was put on fire and destroyed. All PTI ticket holders and aspirants today are facing this fascism, our fundamental rights are being openly violated while our judiciary helplessly watches on."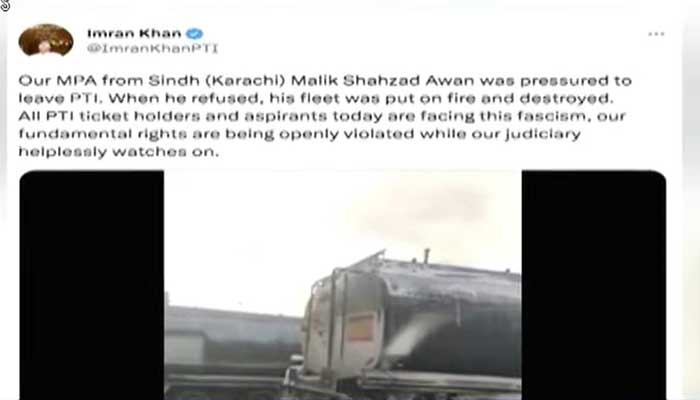 The PTI, meanwhile, tweeted: "Our MPA from Sindh Malik Shahzad Awan's trucks have been put on fire when he refused to leave PTI. His business has been completely destroyed."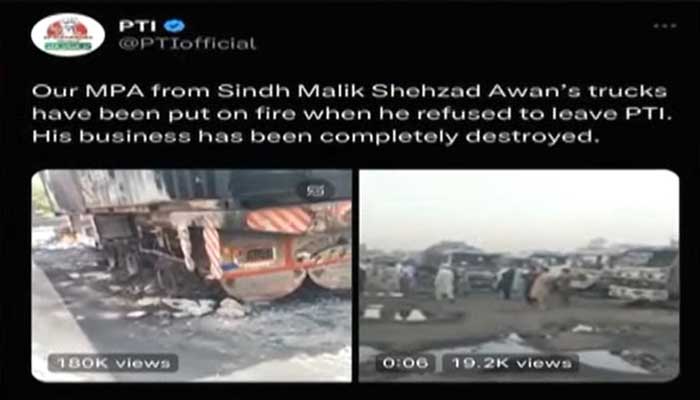 After the civil and military leadership resolved to punish the rioters and instigators of the May 9 violent protests which erupted after the arrest of Khan — who faces a slew of cases ranging from corruption to terrorism — droves of PTI leaders have quit the party with some either shifting their allegiance to other parties and others bidding adieu to politics altogether.
The exodus confronting his party has been termed by Khan as 'forced divorce', particularly after prominent names including Shireen Mazari, Fawad Chaudhry, Imran Ismail and Ali Zaidi, among others, parted ways with PTI and Khan.
"We had all heard about forced marriages in Pakistan but for PTI a new phenomenon has emerged, forced divorces," Khan — a former prime minister — said in a tweet.
The party's leaders have been announcing their departure as not only public and private buildings but also military installations — including the General Headquarters in Rawalpindi — were attacked on May 9.