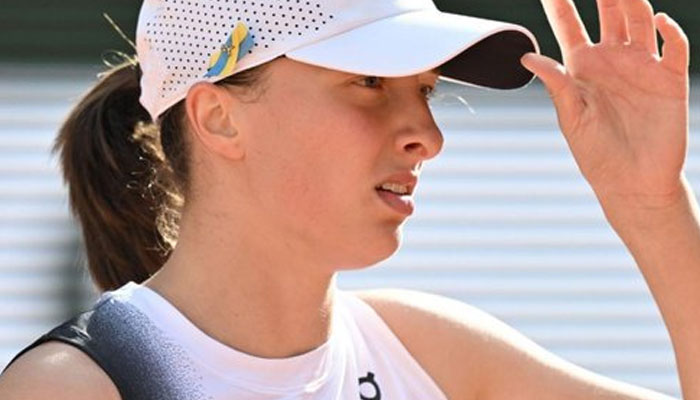 Iga Swiatek, the defending champion, had a shaky start but managed to reach the second round of the French Open. 
She won in straight sets against Cristina Bucsa from Spain with a score of 6-4, 6-0. Swiatek is aiming to become the first woman since Justine Henin in 2007 to successfully defend the title at Roland Garros. She is currently the world number one but could lose that ranking at the tournament to either Aryna Sabalenka or Elena Rybakina.
Swiatek had previously only dropped one game to Bucsa when they played at the Australian Open in January. However, in the first set of their match on Tuesday, she struggled to find her rhythm, resulting in five breaks of serve. 
Once she won the first set, the 21-year-old dominated the 22-minute second set and easily defeated Bucsa, who is ranked 70th in the world. In the next round, Swiatek will face either Ylena In-Albon of Switzerland or Claire Liu of the United States.
Swiatek's accomplishments make her stand out in women's tennis. She is the only active player participating in a full schedule to have won three Grand Slam singles titles. Other notable players like Serena Williams, Venus Williams, Naomi Osaka, and Angelique Kerber are either retired, expecting a child, or planning a comeback. 
Swiatek has emerged as the leader in the sport, having won three of the last 11 Grand Slam events. She is considered the favorite to win her fourth title at Roland Garros. Among women born in the 2000s, she is one of only three who have won a major, with Bianca Andreescu and Emma Raducanu still seeking their second.
Swiatek has achieved remarkable success at a young age. She will turn 22 soon and has already won seven ITF finals at the beginning of her professional career. At the age of 17, she won the Wimbledon junior event as an unseeded player, although she still struggles on that surface. 
In her first year on the Hologic WTA Tour at 18, she reached the fourth round at Roland Garros and finished the year ranked 61st. In 2020, as a teenager, she won her first French Open title as an unseeded player. 
She will also be featured in Part 2 of Netflix's "Break Point."