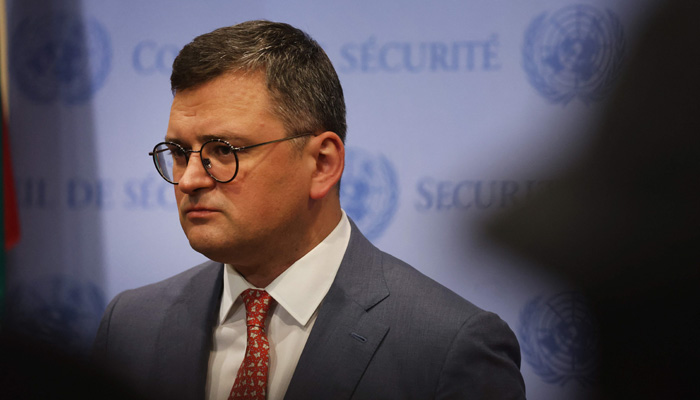 "Pakistan and Ukraine enjoy close, cordial relations," FO says.

Kuleba's visit will begin from July 20 and end on 21.

Minister will meet PM Shehbaz and FM Bilawal during visit.
---
The Foreign Office Wednesday announced Ukrainian Foreign Minister Dmytro Kuleba's visit to Islamabad for a two-day official trip starting on July 20.
As part of his visit, the minister is scheduled to conduct meetings with Prime Minister Shehbaz Sharif and his Pakistani counterpart, Bilawal Bhutto-Zardari.

"Pakistan and Ukraine enjoy close and cordial relations, particularly in the fields of trade, investment, agriculture and higher education," the ministry said in a statement.

Foreign Minister Kuleba's visit, which will begin following his arrival on July 20 and conclude on the 21st, is the first-ever ministerial one from Ukraine since the establishment of diplomatic ties between Pakistan and Ukraine in 1993.
"It is expected to contribute to further strengthening of bilateral ties between the two countries," the statement added.
Last week, The News reported Kuleba's "emergency" visit to Islamabad.
According to the sources, the foreign ministers of Pakistan and Ukraine were to discuss the food crisis in the wake of the Russian-Ukrainian war.
Meanwhile, government officials said that Pakistan wanted an end to the Russian-Ukrainian war and a peaceful resolution of the conflict.
Pakistan's stance on Ukraine-Russia war
Islamabad maintains a neutral stance on the Russia-Ukraine war as it has expressed concerns over the humanitarian crisis in the war-torn country, but never openly condemned Russia.
Pakistan has multiple times abstained from voting on the United Nations against Russia, seeking support for the call for the withdrawal of troops from Ukraine.
Last year, FM Bilawal reiterated Pakistan's neutrality on the Russia-Ukraine conflict, saying that Islamabad was not taking sides.
"We would not be taking sides as we are sick and tired of wars and conflicts," the minister said in an interview with Al Jazeera.
Later in the same month, a statement from the Foreign Office said that Pakistan's stance on the matter remained "unchanged", insisting that the country had taken a "principled stance" on the issue, which is seen as a major diplomatic test for Islamabad to maintain balance in its ties with big powers.
"We want to have broad-based, objective, balanced and mutually beneficial relationships with all major powers, including the United States and China," the FO spokesperson added.