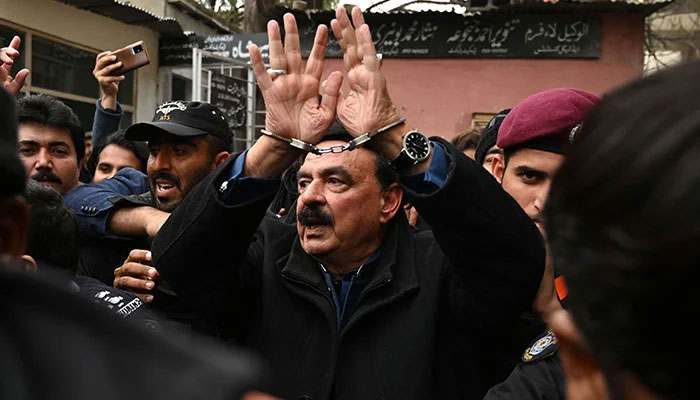 "Punjab police arrested Rashid," claims Sheikh Rashid Shafique.
Urges top court to inform them about whereabouts of AML chief.
Rashid's nephew, domestic help were also taken into custody.
---
Sheikh Rashid Ahmed, the Awami Muslim League (AML) chief and close aide of Pakistan Tehreek-e-Insaf (PTI) Chairman Imran Khan, was arrested in Rawalpindi on Sunday, his counsel Sardar Abdul Razaq claimed.
"Rashid was taken into custody by men in plain clothes from a housing society in Rawalpindi," the lawyer added.

While sharing the details, the lawyer said that Rashid was taken into custody from a rented house in the housing society.

"His [Rashid] nephew was also arrested," he added.
No case was registered against the AML chief in the limits of Punjab, his counsel also claimed, adding that Rashid was nominated in a case lodged at Kohsar police station in connection with a protest rally held on May 10 by the PTI against the detention of Imran Khan — the former prime minister.

"We do not know the whereabouts of Rashid so far. Efforts are being made to trace him," his lawyer went on to say.

'Punjab police arrest Rashid'
In a video statement shared on the official X handle — formerly known as Twitter — of Sheikh Rashid, his nephew and former MNA Sheikh Rashid Shafique confirmed that the AML chief along with his brother, Sheikh Shakir, and a domestic help were taken into custody after Maghrib prayer by officials of Punjab police and plain-clothes men.
In their written statements in Lahore and Islamabad high courts, the police had already admitted that Sheikh Rashid was not wanted by them in any case, Shafique added.
"Sheikh Rashid condemned the May 9 incidents from day one and I did so," he added.
After being arrested, the trio were shifted to an undisclosed location, the nephew said, adding, "We do not know the whereabouts of Rashid, my brother and the domestic help"
He urged the Supreme Court and high courts to inform them whereabouts of Rashid and his brother so that they could provide them the legal assistance. 
The AML chief's nephew further said that they did not know in which case Rashid and his brother were taken into custody.
Shafique also urged the authorities that the trio should be produced before the court. He vowed to fight the legal battle for their right.