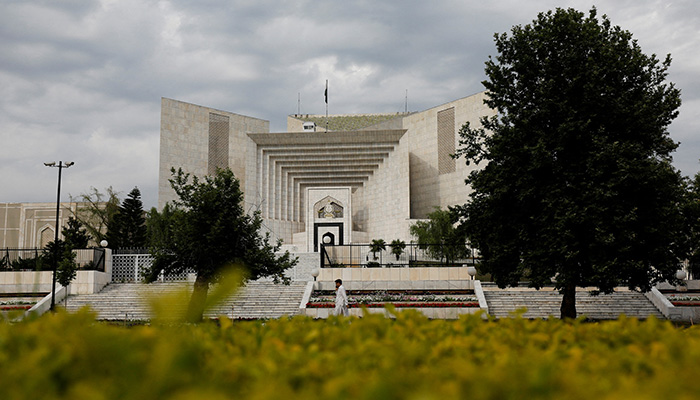 Three member panel will hear review petitions in sit-in case.
In Feb 2019, SC ordered prosecuting advocaters of hate, extremism and terrorism.
Legal saga began in April 2019, after then-govt, others filed review pleas.
---
ISLAMABAD: Responding to a series of review petitions submitted against its previous ruling, the Supreme Court of Pakistan is set to revisit the Faizabad sit-in case on September 28, The News reported.
A three-member panel, led by Chief Justice Qazi Faez Isa and consisting of Justices Amin-ud-Din Khan and Athar Minallah, will hear the review proceedings.
This legal saga began on April 15, 2019, when the then-federal government, along with entities like the Defence Ministry, Intelligence Bureau, Pakistan Tehreek-e-Insaaf (PTI) government, Awami Muslim League (AML) chief Sheikh Rashid Ahmed, Mutahidda Qaumi Movement (MQM), and the Pakistan Electronic Media Regulatory Authority (Pemra), among others, filed review pleas contesting the apex court's judgement delivered by the incumbent Chief Justice Qazi Faez Isa regarding the Faizabad sit-in case.
Earlier on February 6, 2019, a two-member bench of the apex court comprising the now-CJP Isa and Justice Mushir Alam recommended that persons, issuing an edict or fatwa to harm another person or put another person in the harm's way must be dealt with iron hand and prosecuted under relevant laws.
It also ruled that the intelligence agencies must not exceed their respective mandates. Later, the bench disposed of a suo moto case regarding the 2017 Faizabad sit-in staged by the Tehreek-e-Labbaik Pak­is­tan (TLP).
The 43-page verdict issued by the two-judge bench and published on the apex court's website read: "Every citizen and political party has the right to assemble and protest provided such assembly and protest is peaceful and complies with the law imposing reasonable restrictions in the interest of public order. The right to assemble and protest is circumscribed only to the extent that it infringes on the fundamental rights of others, including their right to free movement and to hold and enjoy property."

In November 2017, the top court took suo motu notice of the three-week-long sit-in, which was held against a change in the finality-of-Prophethood oath, termed by the government as a clerical error, when the government passed the Elections Act 2017. The sit-in was called off after the protesters reached an agreement with the government.